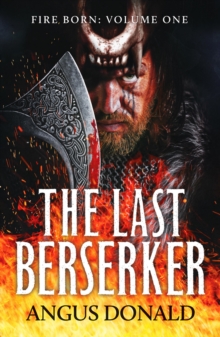 The Last Berserker : An action-packed Viking adventure
Paperback / softback
Part of the Fire Born series
Description
The greatest warriors are forged in the flames771AD, Northern EuropeTwo pagan fightersBjarki Bloodhand and Tor Hildarsdottir are journeying south into Saxony.
Their destination is the Irminsul, the One Tree that links the Nine Worlds of the Middle-Realm.
In this most holy place, they hope to learn how to summon their animal spirits so they can enter the ranks of the legendary berserkir: the elite frenzied fighters of the North. One Christian kingKarolus, newly crowned King of the Franks, has a thorn in his side: the warlike Saxon tribes on his northern borders who shun the teachings of the Church, blasphemously continuing to worship their pagan gods. An epic battle for the soul of the NorthThe West's greatest warlord vows to stamp out his neighbours' superstitions and bring the light of the True Faith to the Northmen - at the point of a sword.
It will fall to Bjarki, Tor and the men and women of Saxony to resist him in a struggle for the fate of all Europe. Praise for The Last Berserker'A wonderful, blood-soaked tale of redemption and revenge, set amidst the eighth century clash of civilisations between Pagan Vikings and Christian Franks, by a master of the genre' Saul David, author of Zulu Hart'Well researched detail and stunning battle scenes make The Last Berserker a white knuckle ride.
A thrilling, up-all-night read' C. R. May, author of The Day of the Wolf'I loved it. Bjarki and Tor are great characters, instantly relatable.
The depth of the immersion in their world and their values gives the book authenticity and weight' Cecelia Holland, author of The Soul Thief
Information
Format:Paperback / softback
Pages:400 pages
Publisher:Canelo
Publication Date:25/02/2021
Category:
ISBN:9781800321878