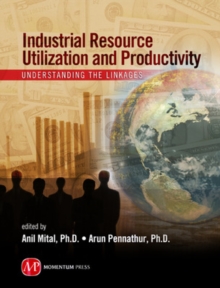 Industrial Resource Utilization and Productivity : Understanding the Linkages
Hardback
Description
This new compendium of recent advances in the use of modern technology and management concepts - from distributed virtual manufacturing enterprises to integrating green technology in a cost-effective manner to materials and energy savings will offer engineers and technical managers the needed insight to plan for future growth and success.
Greater utilization and availability of resources in the workplace are directly related to better design and better engineering in the manufacturing economy.
The book will explore how energy-efficient smart materials and structures hold tremendous potential for realizing cost savings and improving energy use in the modern industrial workplace.
It will also show how industrial engineers have developed a variety of analytical and computer-based tools and technologies for planning, forecasting and scheduling resources including time, labor, and more recently, energy. Readers will also find: New trends in "i-Manufacturing"; finding optimal ways to distribute goods and services; Human Resources Management in the context of efficient manufacturing; Resources Planning, Forecasting and Scheduling Distribution, Logistics and Supply Chain Optimization; and, Green Design and Manufacturing.
Free Home Delivery
on all orders
Pick up orders
from local bookshops