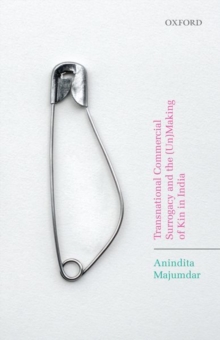 Transnational Commercial Surrogacy and the (Un)Making of Kin in India
Hardback
Description
Transnational Commercial Surrogacy and the (Un)Making of Kin in India seeks to explore the multiple relationships that emerge, are constructed and rejected in the course of participating in a commercial surrogacy arrangement.
Drawing from conversations with foreign couples coming to India to hire Indian surrogates through Indian fertility clinics, Indian surrogates, lawmakers, and clinicians, this book engages with multiple facets of the transnationalcommercial surrogacy process: the politics of foreign gay couples seeking families through surrogacy in India, identity giving processes to the babies born to foreign couples, the clinicians understanding of kinship, the networks of commerce and surrogacy agents, and the ways in which the surrogate and her husbandposition themselves within the arrangement.
Some of the questions that the book is exploring are: What are the mechanisms by which kinship is understood and practiced in a comparative and cross-cultural milieu?
How can anthropology develop a more nuanced notion of interpersonal relationships in a global, transnational setting?
How does biology and the social come to be configured within kinship in transnational commercial surrogacy?
In this book, transnational commercial surrogacy is seen as afertile ground for the examination of cross-cultural engagements with kinship and technology.
Information
Format: Hardback
Pages: 227 pages, 13 Figures, 3 Tables
Publisher: OUP India
Publication Date: 01/03/2018
Category: Sociology: family & relationships
ISBN: 9780199474363
Free Home Delivery
on all orders
Pick up orders
from local bookshops