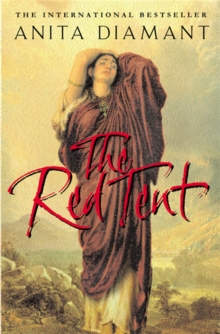 Description
Her name is Dinah. In the Bible, her fate is merely hinted at in a brief and violent detour within the verses of the "Book of Genesis" that recount the life of Jacob and his infamous dozen sons.
The "Red Tent" is an extraordinary and engrossing tale of ancient womanhood and family honour.
Told in Dinah's voice, it opens with the story of her mothers - the four wives of Jacob - each of whom embodies unique feminine traits, and concludes with Dinah's own startling and unforgettable story of betrayal, grief and love.
Deeply affecting and intimate, "The Red Tent" combines outstandingly rich storytelling with an original insight into women's society in a fascinating period of early history and such is its warmth and candour, it is guaranteed to win the hearts and minds of women across the world. 'If you don't read it you'll be missing out' - Eve. 'I genuinely fell into this rich and colourful world and Dinah and Leah have stayed with me as ancestors and sisters brought to life by Anita Diamant's imaginative novel' - "Maureen Lipman".
Information
Format: Paperback
Pages: 336 pages, geneal. tables
Publisher: Pan Macmillan
Publication Date: 01/03/2002
ISBN: 9780330487962
Free Home Delivery
on all orders
Pick up orders
from local bookshops
Reviews
Showing 1 - 5 of 8 reviews.
Previous | Next
Review by wyvernfriend
16/06/2015
An interesting read. The red tent is the menstrual tent of biblical times, but this is just before Judiasm proper, you can see it's roots starting but the women still worship their own Gods. Focusing on Dinah this is her story and her mothers' story.
Review by bookwitch
16/06/2015
Anita Diamant goes where men were not only forbidden but feared to tread, and reveals the secret life of biblical women behind the walls of the tent to which they retired during menstruation at the time of the new moon. The story is told by Dinah, and begins with the histories she learned at the sides of her four mothers, who were not only sisters but the wives of Jacob, father of twelve sons who became the ancestors of the twelve tribes of Israel. The author retells the biblical story in which Dinah appears and imagines her life after the violence and terrible tragedy that must surely have been central to her life, linking her to both historical and biblical events and figures along the way. Beautifully written, researched and imagined with each character alive and unique, and a fascinating study of the everyday lives and times of biblical women, who seemed almost to have their own separate society and religion from the men, worshipping the older gods and especially goddesses, and initiating the girls into the secret rhythms of women's lives as they came of age. At times I found the very many names and genealogies difficult to keep track of, but this, as well as Dinah's voice, gave quite a biblical feel to the text itself.Probably a book for women rather than men, but don't be put off by the biblical theme – this is definitely one for pagans too.
Review by cathepsut
16/06/2015
Remember the sister of Joseph in the book of Genesis? No? Well, I didn't either. Dinah tells us the story of her 4 mothers and her whole extended tribe, including all those brothers, who will eventually sell off her baby brother into slavery to Egypt. But this is really more about the life of all the women in her father's camp. The Red Tent is the place where they rest during their menstruation and where they recuperate from their daily toil. Here they enjoy life, tell stories and show us how how women fared in biblical times.Definitely a book for the girls. I am not sure if a man would like this? I enjoyed it a lot.
Review by leore_joanne
16/06/2015
This is the second book I have read recently which is based on events which occured in the bible, and it is by far the better one. The story is so alive and flowing that I have finished the book within one day and it has stood in sharp contrast to the previous book I read, which was much longer, took much more time and effort to read and was a lot heavier. The book tells the story of Dinah. A character hardly mentioned in the bible except for a few lines (after finishing the book, I fished out the bible and checked this out, although the author says so too). Her story is a short and violent one there. The book was fantastic and when it ended I was left literally gasping and with tears in my eyes. Recommended.
Review by hazelk
16/06/2015
Just because it was a sort of feminist take on a biblical theme and explores some rituals that are not dealt with much in fiction doesn't make this novel good literature. I was quite interested for a few pages but this interest rapidly diminished. I found it too light for my taste. It was a novelty act not a class act..