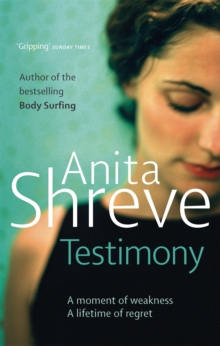 Description
At a New England boarding school, a sex scandal is about to break.
Even more shocking than the sexual acts themselves is the fact that they were caught on videotape.
A Pandora's box of revelations, the tape triggers a chorus of voice -- those of the men, women, teenagers, and parents involved in the scandal -- that details the ways in which lives can be derailed or destroyed in one foolish moment.A gripping emotional drama with the pace of a thriller, Anita Shreve's Testimony explores the dark impulses that sway the lives of seeming innocents, and the ways in which our best intentions can lead to our worst transgressions.
Information
Format: Paperback
Pages: 320 pages
Publisher: Little, Brown Book Group
Publication Date: 01/06/2009
ISBN: 9780349119021
Free Home Delivery
on all orders
Pick up orders
from local bookshops
Reviews
Showing 1 - 4 of 4 reviews.
Review by Mumineurope
16/06/2015
Rape of 14 yo at vermont boarding school seen from lots of people's point of view
Review by revslick
16/06/2015
Shreve writes a novel about a sex scandal at an English Boarding School. **Warning - The book begins with the sordid details** the book picks up years later with all the players involved trying play off two precepts - one things are murkier than just black/white or right/wrong; and two what are the after effects years later on the players involved in a scandal. I've enjoyed several of Shreve's novels, but this one was too disjointed and unnerving.
Review by Reveries
16/06/2015
Based on incident at a prep school in Massachusetts, Testimony is a fascinating study of the interaction between what teenagers know about sex and what they understand about themselves. Three boys in the late teens have "consensual" sex with a fourteen year old girl. The act is filmed and put on the internet. The novel explores the ways in which this single act impacts and shapes all individuals within the orbit of the central characters. Also at the center of the novel is a teenage love story which is told as a counterpoint to the graphic and disturbing sexual episode. Each chapter is told from a viewpoint of one of the characters in the novel. The different voices were, for the most part, distinctive. The only flaw in the book for me was in the love story. There was a plot twist that ultimately I didn't believe on a couple of levels. It is for that reason that I gave the book three stars.
Review by Ameise1
16/06/2015
It's a wonderful written story about a tragic occurrence at a privat school in Vermont. The incident is written on the point of view from participants which are different in age as well in the involvement of their part. As a reader I've got an insight without any estimation for one or the other. Even though what had gone on was something anybody wouldn't wish for someone else and could change life of many people it is also a situation where anybody can drop in. As parents we are obliged to protect our children from such circumstances by explain them how to conduct themselves in those situations but we'll get never the security if it'll work out in a good way.