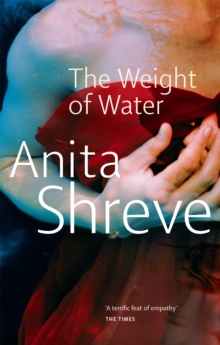 The Weight of Water
Paperback
Description
On Smuttynose Island, off the coast of New Hampshire, more than a century ago, two Norwegian immigrant women were brutally murdered.
A third woman survived by hiding in a cave until dawn.
In 1995, Jean, a photographer, is sent on an assignment to shoot a photo essay about the legendary crime.
Taking her extended family with her, Jean stays in a sailboat anchored off the coast, and finds herself gradually becoming more and more engrossed in the bay's mysterious and gruesome past.
Wandering into a library one day, she unearths letters written by Maren, the sole survivor of the murder spree.
Jean's fear of losing all that she cares about is reflected in Maren's poignant tale of love and loss, and her obsession with the ancient story drives her to wild impulsive action -- with unrecoverable consequences.
Information
Format: Paperback
Pages: 256 pages
Publisher: Little, Brown Book Group
Publication Date: 14/05/1998
ISBN: 9780349109114
Free Home Delivery
on all orders
Pick up orders
from local bookshops
Reviews
Showing 1 - 3 of 3 reviews.
Review by jedisluzer
16/06/2015
I bought this on the island where the murders take place, and loved it.
Review by francescadefreitas
16/06/2015
This novel interweaves a crises in a present day family, with a murder mystery from the past. Both stories are terribly, terribly sad.I didn't enjoy reading this. I found the cuts between present and past choppy and confusing. But mostly, it is the sadness that bothers me.
Review by Kitscot
16/06/2015
In 1873 two women are brutally murdered on a small island off the coast of New Hampshire. A third woman, Maren, scared, alone and covered in blood hides in a cave on the shoreline. In what becomes referred to as the 'trial of the century' by newspapers of the time, Louis Wagner is arrested, charged, tried and hanged for the murders. In the present day, Jean, a photojournalist, is visiting the island where the murders took place on an assignment for the magazine she works for. Her editor thinks there is a link between the 1873 murders and a famous trial in the 1990s involving "a double murder, with a blade, a famous trial, circumstantial evidence that hinges on tiny factual details."On the trip with Jean are her husband Thomas, her daughter Billie, her brother in law Rich and his girlfriend Adaline. Using Rich's boat they travel to what is an archipelago of nine islands, eight at low tide. Thomas is a university professor and poet and an alcoholic. He told Jean that he loved her the day after they met but Jean feels at times that she is more of a muse to Thomas than someone he truly loves. Jean also begins to believe that her husband is having an affair with Adaline.The novel switches between the present day and a document of 1899 written by Maren on her deathbed. The document is found by Jean in the archives of a local island library, which she steals from the library with the intention of returning it at a later date. The novel is laden with metaphors. The sea of course is the novel's strongest metaphor with its allusions to emotional undercurrents, its inherent beauty and benign nature when calm but unforgiving and treacherous as life can be when we least expect it. The weight of emotions, expectations, dreams, desires, loved one's needs, fears and disappointments that pressurize us the deeper we enter our mortal coil.Anita Shreve's novel is a light book of only 246 pages but weighs heavily on the mind after reading it with its genuinely emotional writing. In less competent hands this story would have become fatuous, over-wrought and sentimental but the author steers the story away from those over populated islands and sails us toward the more treasured, resplendent islands of intelligent, empathetic, well-crafted and erudite.My only criticism is the denouement of Maren's document and the reason why the murderer committed the heinous crimes they did. I felt it neither rang true nor was satisfactory in its reasoning. The events that led to the murders felt contrived and lacked any narrative truth. However, Jean's story ends truthfully and leaves one feeling battered and bruised by the storm of edifying, emotionally charged prose