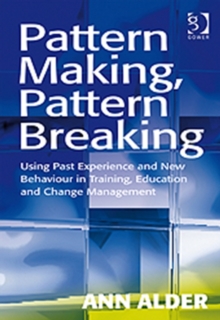 Pattern Making, Pattern Breaking : Using Past Experience and New Behaviour in Training, Education and Change Management
Hardback
Description
Rapid changes in technology, the nature of organisations, non-traditional career progression, globalisation and 'virtual worlds' mean that we need to become ever more effective learners in order to keep pace with the demands placed upon us.
Our patterns of understanding, the ways in which we make sense of our work and our world, hardly become fixed before we are asked to change them and form new ones. The ability to build patterns is fundamental to our ability to learn.
Ann Alder's Pattern Making, Pattern Breaking explores the ways in which educators and facilitators can work to help students build those patterns that will be most useful to them.
These may be 'technical' patterns of language, number, sequence or process.
They may be thinking patterns that support problem-solving, creativity, logical analysis or empathy.
They may be patterns of behaviour that demonstrate trust, influence or integrity in relationships.
Ann also illustrates how you can teach students to break patterns: to help them move on in the learning process by recognising and rejecting long-held patterns of behaviour or assumptions that are unhelpful or redundant. Formal education and training do not necessarily produce learners who are well-resourced to take advantage of opportunities that arise and to avoid some of the stresses that uncertainty, ambiguity or imposed change place upon them.
So, perhaps one of the most important patterns that we can explore and understand as we move forward, in a changing world, is our own pattern of learning.
Whether you are a parent, teacher, tutor, trainer, coach or manager, you need to be an effective facilitator of learning and this book is the perfect starting place.
Other Formats
EPUB from £37.79
PDF from £37.79
Free Home Delivery
on all orders
Pick up orders
from local bookshops