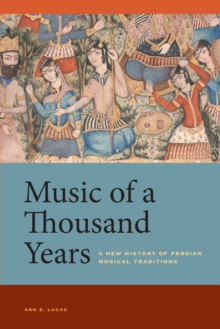 Music of a Thousand Years : A New History of Persian Musical Traditions
Paperback / softback
Description
A free open access ebook is available upon publication.
Learn more at www.luminosoa.org. Iran's particular system of traditional Persian art music has been long treated as the product of an ever-evolving, ancient Persian culture.
In Music of a Thousand Years, Ann E. Lucas argues that this music is a modern phenomenon indelibly tied to changing notions of Iran's national history.
Rather than considering a single Persian music history, Lucas demonstrates cultural dissimilarity and discontinuity over time, bringing to light two different notions of music-making in relation to premodern and modern musical norms.
An important corrective to the history of Persian music, Music of a Thousand Years is the first work to align understandings of Middle Eastern music history with current understandings of the region's political history.
Information
Format: Paperback / softback
Pages: 288 pages, 13 color images, 7 maps, 14 line art illustrations
Publisher: University of California Press
Publication Date: 10/12/2019
Category: Theory of music & musicology
ISBN: 9780520300804