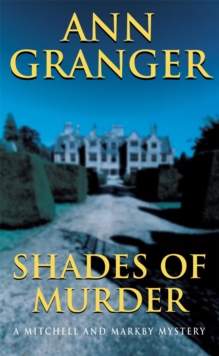 Shades of Murder
Paperback
Description
In 1889 Cora Oakley died by inhaling a poisonous gas in her sleep, and her husband William was put on trial for her murder.
Over a hundred years later, the only remaining members of the family are two elderly sisters who live in the ancestral home.
Unable to maintain the mansion, the sisters decide to sell up and live off the proceeds.
Then a young Polish man named Jan appears, claiming to be William Oakley's great-grandson and threatening to ruin the sisters' plans.
When he is found dead, it seems that the shadow of murder has returned to haunt the Oakley family again, and Superintendent Markby must look back at the events of a century ago to find the killer...
Information
Format: Paperback
Pages: 416 pages
Publisher: Headline Publishing Group
Publication Date: 01/02/2001
Category: Crime & mystery
ISBN: 9780747268031
Free Home Delivery
on all orders
Pick up orders
from local bookshops
Reviews
Showing 1 - 3 of 3 reviews.
Review by Ansy
16/06/2015
Nice one of this series, also the who-done-it is not so mysterious.
Review by the.ken.petersen
16/06/2015
The book was very light on police procedure. Accepting that Markby would be allowed anywhere near a murder in which he had direct contact with all of the suspects, even living with one of them; because such stretches are sometimes necessary for a crime novel, the police seemed to operate upon a Sherlock Holmes/Hercule Poirot approach whereby the little grey cells were all and finger prints, etc. were non existent. I would have forgiven this, but a good whodunnit should have a twist: this one did not. After a very long build up - over 150 pages before the murder is committed, the book proceeded quite well, until the end. I would have liked some of the frightfully upper class villagers to get their comeuppance but the green wellie brigade came out on top; even though one of their number was a murderer. The complex series of events that lead to Jan Oakley's demise were unconvincing and left me feeling a little cheated. The writing style was good and the 400 pages slipped by without effort. This is one of a series of 'Mitchell and Markby' books and I may well try another because this has the air of being out of kilter with said collection: Markby is very much a secondary character, having been somewhat sidelined by the pedestrian Minchin (due to Markby's connection to the case) and Meredith Mitchell is relegated to a point even further towards the edge of the picture. I am guessing that this might be a rogue offering - the one that didn't quite work.
Review by Romonko
16/06/2015
This book refers back to a previous death of an Oakley family member in 1889. Cora Oakley was found burned to death in her bedchamber. Her husband William was charged with murder since many felt that he had poisoned her with arsenic fumes which caused her to knock over the lamp and start the fire. William was acquitted and left the country, leaving a young son behind him. Descendents of that son are now living in the family home. A stranger comes to town saying he's a descendent of Cora's husband. This puts the elderly Oakley sisters in a quandary and upsets everyone in the village of Bamford. When a present-day murder occurs. Alan Markby and Meredith Mitchell are on the case. Alan, although a Superintendent, has been side-lined for this investigation because he is too close to the principals in this case, so he works from the sidelines with Meredith trying to uncover some long-buried family secrets. Ann Granger does a wonderful job of the English village mystery and her two sleuths are two of my favourites. Meredith and Alan's personal relationship always adds some interest to the mystery.