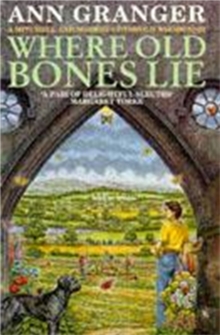 Where Old Bones Lie
Paperback
Description
What do you do when you think your ex-lover has murdered his wife? That's the question Ursula Gretton, an archeologist working on the Saxon burial ground on Bamford Hill, puts to Meredith Mitchell in the hope that Meredith's friendship with Cotswold Chief Inspector Markby might cast some light on her dilemma. But Markby is dismissive of Ursula's suspicions concerning the disappearance of Dan Woollard's wife - until a body is found in the rubbish dump near the site Woollard and Ursula have been excavating. Woollard's team of archeologists aren't the only ones to disturb the peace of the windswept hill. Much to the fury of a taciturn pair of local landowners, a band of New Age travellers has set up camp on the hill, only to disappear the day the body's discovered. Markby is faced with a tangle of conflicting clues, suspects and possible witnesses - amongst the latter Meredith Mitchell - and when a second body is found it is clear the web is growing evern more complex, and destructive.
Information
Format: Paperback
Pages: 288 pages
Publisher: Headline Publishing Group
Publication Date: 01/03/1994
Category: Crime & mystery
ISBN: 9780747242970
Free Home Delivery
on all orders
Pick up orders
from local bookshops
Reviews
Showing 1 - 2 of 2 reviews.
Review by wortklauberlein
16/06/2015
Entertaining audio for the daily commute. The bodies and bones keep piling up along with the number of suspects as an archaeological team of generally unlikable sorts digs into a farm where a group of hippie "travelers" has set up camp. Detective Inspector Markby of Bamford gets the case when the first contemporary body turns up, wrapped in a rug and dumped in an old quarry. His not-girlfriend-but-semi-regular-bed-partner Meredith, friends with one of the archaeologists, meddles annoyingly and puts herself in peril more than once. What does Markby see in her anyway? My first Ann Granger, but I'll happily listen to others in this lengthy series.
Review by Helenliz
16/06/2015
 This is an interesting little story, that i now see is part of a series - but it's the first I've read and I'm not sure the story suffered for that. There's an excavation on a field in the Cotswolds, looking for an Anglo Saxon warrior king, only soon it finds bones that are somewhat newer than that. The field gets invaded by a bunch of new age travelers, and the dig is interrupted. A body is found in the tip based in the old quarry opposite - and the dig is interrupted. A second body is found in the grave pit of an Anglo Saxon and the dig is interrupted yet again. All the while there are enough goings on between the archaeologists to keep the story ticking along. Dan & Ursula have been having an affair (but it's over). Dan's wife is missing and Ursula is getting worried that some harm has come to her, so Ursula calls on her friend Meredith. It just so happens that Meredith has a relationship (of sorts) with the local chief Inspector, Adam Markby. So how surprised are you to discover the identity of the first body? but who did it is a different story. it's a fun tale, lots happens and the characters are engaging and have quirks that make them recognisably human. I can see myself reading more of this series.