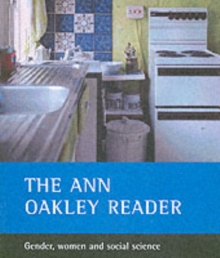 The Ann Oakley Reader : Gender, Women and Social Science
Paperback
Description
This book brings together edited extracts from classic texts by the internationally renowned feminist sociologist, Ann Oakley.
Edited and selected by the author herself, it starts with work first published in the early 1970s.
Ann Oakley's research and writing on sex and gender, housework, motherhood, women's health, and social science, have enormously influenced the thinking of many inside and beyond social science, and have helped to shape the academic study of women and gender right up to the present day.
Many of Oakley's early works are out of print and this collection makes them available again.
There are extracts from pioneering studies such as "Sex, Gender and Society", "The Sociology of Housework", "From Here to Maternity and Women Confined", presented alongside some of Ann Oakley's more recent reflections on methodology, scientific method and research practice.
The book illustrates how Oakley's thinking has evolved over a period in which much in the field of gender and women's studies has changed.
Each section of the book is prefaced by Oakley's reflections on how her original studies relate to more recent research and theoretical perspectives.There are many points of intersection with modern debates about how (and whether) to 'do' gender and what terms such as 'women' and 'men' really mean. The result is a valuable commentary on thirty years' work on women, gender and social science methodology which will be of interest to many, especially undergraduate and A-level students, as well as all those grappling with current issues about the past and future of work in the contested areas of gender, women's studies and feminist social science. Contents: General introduction; Part 1: Sex and gender: Introduction; Extracts from Sex, Gender and Society; introduction; the biology of sex; sex and gender; the learning of gender roles; the future of sex differences; Extracts from Subject Women; genes and gender; a kind of person; childhood lessons; Part 2: Housework and family life: Introduction; Extracts from The Sociology of Housework; introduction; images of housework; work conditions; standards and routines; marriage and the division of labour; Extract from Subject Women; domestic work; Extract from Housewife; women and industrialization and two of the interviews in chapter 6; Extract from Becoming a Mother; domestic politics; Part 3: Childbirth and motherhood: Introduction; Extracts from Becoming a Mother; introduction; the agony and the ecstasy; learning the language of the child; lessons learnt; Extracts from Women Confined; medical maternity cases; reproduction and change; losses and gains; mistakes and mystiques; Extracts from What is Feminism; edited version of feminism, motherhood and medicine - who cares?;Part 4: Doing social science: Introduction; Extract from The Sociology of Housework; the invisible woman: sexism in sociology; Extract from Women Confined; the sociological unimagination; Extracts from Housewife; myths of woman's place: the division of labour by sex; myths of woman's place: motherhood; Extract from Becoming a Mother: endnote; Extract from Doing Feminist Research ~ Helen Roberts; edited version of interviewing women: a contradiction in terms; Extract from Women's Health Counts ~ Helen Roberts; edited version of some problems with the scientific method and good research practice.
Information
Format: Paperback
Pages: 272 pages, Illustrations
Publisher: Policy Press
Publication Date: 24/06/2005
Category: Gender studies: women
ISBN: 9781861346919
Free Home Delivery
on all orders
Pick up orders
from local bookshops