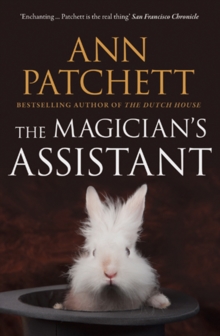 The Magician's Assistant
Paperback
Description
Third - and breakthrough - novel by an acclaimed American writer with an enchanting, quirky voice. `The Magician's Assistant' is at once a love story and a brilliant portrayal of reinvention about a magician who dies leaving his assistant/wife to discover he has lied about his past.A magician (with one memorable appearance on the Johnny Carson Show to his credit) takes the name Parsifal.
He is gay. He has a Vietnamese lover, Phan. When Phan dies of AIDS, Parsifal marries the woman who has always adored him and who has lived with them both, his assistant Sabine.Then Parsifal himself dies in California, suddenly and shockingly, of an aneurysm.
Parsifal always said that he had no living family and that he came from wealthy upscale Connecticut stock.
The reality is very different, as Sabine learns from his lawyer.
He came from a poor Nebraska family and they are very much alive.
Indeed his mother and sister are on their way to California to meet Sabine, the daughter- and sister-in-law they know nothing about.
It is bad that her husband has died. What Sabine must now cope with is coming to terms with his horrific past and the reason he divorced himself from his family and roots.
Information
Format: Paperback
Pages: 368 pages
Publisher: HarperCollins Publishers
Publication Date: 04/02/1999
ISBN: 9781857028157
Free Home Delivery
on all orders
Pick up orders
from local bookshops
Reviews
Showing 1 - 5 of 9 reviews.
Previous | Next
Review by KatS11
16/06/2015
Easy read, fairly predictable. I thought the stuff about the magic was the most interesting. Parsifal's family was normal and consequently uninteresting. I felt a lack of closure at the end.
Review by cms519
16/06/2015
This was a great beach book- an interesting plot, rich characters, and lots of questions to be answered. I particularly loved reading the sections about Sabine's dreams. Also, the section when Kitty explains the role Walmart plays in the lives of the people of the town is wonderful- the best use of Walmart in a book since Where the Heart Is.
Review by petterw
16/06/2015
The Magician's Assistant is a decent read, not even close to the quality of Patchett's Bel Canto, but still worth reading. It is a truly original story with believable characters and partly a good plot. The problem is that the novel is too shallow, without a real premise. The characters stay the same from beginning till end, and although it is interesting to follow them and their trials and tribulations, too little is actually happening to move the reader. The lack of depth and lack of velocity is a bit of surprise, because the strength of Bel Canto is exactly depth, velocity and not the least a fabulous plot. I will nevertheless gladly give Ann Patchett another chance.
Review by justininlondon
16/06/2015
Delightful and quirky contemporary novel. Story of a gentle, timid soul who goes through life latching her fortunes to other, larger characters. Only downside for me were too many dream sequences. Some of our book group felt she was too wimpish for sympathy and didn't have enough character development as the story progressed. In contrast, I found it true to life.
Review by auntieknickers
16/06/2015
Ann Patchett is one of the best novelists writing today, maybe the best. Each of her novels that I've read (this is the third) has been different and amazing. In the story of Sabine, the magician's assistant; her late husband, Parsifal; his longtime lover, Phan; and the mother and sisters Parsifal left behind in Nebraska, whose existence Sabine only learns of after his death, Patchett deals with themes of love, memory, family, dreams, home, America and its promise, and secrets. It is a heartwrenching book, but one that ends with hope. Patchett obviously loves her characters and makes us love them too. I would recommend this book to anyone who likes good writing and a good story.