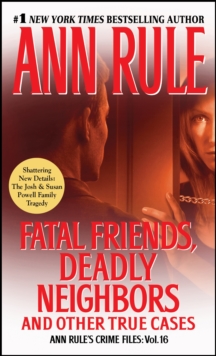 Fatal Friends, Deadly Neighbors
Paperback
Description
Billionaire Jonah Shacknai's eight-year-old son dies falling off a balcony in his mansion.
Several days later, Jonah's live-in girlfriend, Rebecca, is found hanging, nude, with her hands tied behind her.
There is an ineffective police investigation that rules her death a suicide.
However, this seems unlikely to all around her. There are several suspects in this case: Jonah's brother, Adam, a tugboat captain and pornography aficionado from Memphis, arrived in Coronado the day after Max, the child, fell.
There are Jonah's two ex-wives, the second being Max's mother.
Ann Rule, with her reporter's nose, delves into this mysterious unsolved case.
Information
Format: Paperback
Pages: 544 pages, 2 16-page b-w inserts
Publisher: Simon & Schuster
Publication Date: 27/11/2012
Category: True crime
ISBN: 9781451648287
Free Home Delivery
on all orders
Pick up orders
from local bookshops
Reviews
Showing 1 - 3 of 3 reviews.
Review by ElizaJane
16/06/2015
Reason for Reading: It's been years since I read this type of true crime. I used to read it a lot. I had been wanting to get back into reading something like this and who better to start with than Ann Rule. I read a couple of her books waaaay back at the beginning of her career, but I had never read one of her crime file collections before.The publisher's summary and information on the book itself is quite careful in not letting the reader know which cases are discussed in the book, except the Powell case, so I will not reveal that information either. I really enjoyed this read and the format of 8 separate cases made it easy to pick up and read a chapter at a time once the two beginning 'novella' sized cases had been presented. I enjoy Rule's writing, she has little sympathy for the offenders and yet on the rare occasion can show compassion *if* it is warranted. Rule does not go into gory details, but she does not gloss over the heinous acts either. First and foremost her objective is to preserve the victim's dignity while letting the reader know the seriousness of the crime but not crossing over into that which would become voyeuristic. I appreciated this style of writing and Rule's own concern and compassion for those she writes about is evident.The book has a theme of murders/rapes committed by friends or neighbours though not every story sticks precisely to that theme. It starts off with two 'novella' length cases then the next six are short story length. The first case is the Susan Powell case, an extremely tragic story which started in 2009 and continued right up to the time of the author writing the book. Next follows a strange tale where the police have closed the case on two deaths that occurred within 24 hours of each other in the same house. The deaths were ruled as accidental and suicide but the public has taken the death of the six year old to heart not believing it to be an accident and the family of the other do not believe suicide is at all possible. This is also a recent (2011) case which I found fascinating. Personally, my thoughts lean towards the boy being an accident and the woman a murder.The following six stories are mostly from the seventies, some solved, some cold cases. I learned that back in the seventies they didn't use the term 'cold case' but referred to these cases as 'losers' at the time. These cases involve murder, rape and missing persons and were all of interest. I had not heard of any of the stories presented in this book, which was refreshing and Rule picked a great selection of stories to present together. A quick, light read for the true crime fan.
Review by TheLoopyLibrarian
16/06/2015
I have been an Ann Rule fan for decades. Crime stories have always interested me, but I'm careful about which true crime authors I read. I have made the mistake of picking up books that focused on the gruesome details of the crimes themselves with little empathy for the victims or the families. Ann Rule is steadfast in her support of and respect for victims and their families. She also supports law enforcement and, having once been a cop herself, has an innate understanding of the job and the people that must investigate these crimes. Over the years, I have read almost all of her books.Fatal Friends, Deadly Neighbors is particularly chilling because most all of the cases involve victims and perpetrators that lived near each other or who had some familiarity with one another. We all know to be wary of strangers, but seldom do we suspect that our friendly neighbor or friend could be capable of doing us harm. We tend to trust them. The cases in Ann Rule's latest crime files demonstrate just how misplaced that trust can sometimes be.The last case in the book is particularly frightening for parents. But, it serves as a valuable warning. Parents are always careful to teach their children about stranger danger, but the sad fact is most children are molested or harmed by someone that is familiar to them.Not only are the cases of Ann Rule interesting, but more often than not they serve as cautionary tales. I'm not suggesting we all walk around paranoid, but we should be aware of the potential dangers in this world and make our children aware as well. Sometimes knowledge is the best protection of all.
Review by VickiTyley
16/06/2015
True crime writing at its best, especially the in depth research and insight with the Powell case.