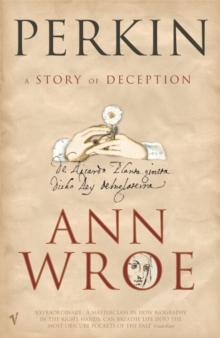 Description
The story of Perkin Warbeck is one of the most compelling mysteries of English history.
A young man suddenly emerged claiming to be Richard of York, the younger of the Princes in the Tower.
As such, he tormented Henry VII for eight years. He tried three times to invade England and behaved like a prince.
Officially, however, he was proclaimed to be Perkin Warbeck, the son of a Flemish boatman.
A diplomatic pawn, he was used by the greatest European rulers of the age for their own purposes.
All who dealt with him gave him the identity they wished him to have: either the Duke of York or a jumped-up lad from Flanders.
It is possible that he was neither. It is also possible that, by the end, even he did not really know who he was.
In Perkin Ann Wroe tells again a marvellous tale that is on the brink of being forgotten.
She also dissects the official cover story. In doing so she delves into the secret corners of European history and produces a portrait of the late fifteenth century that is breathtaking in its detail.
Information
Format: Paperback
Pages: 624 pages
Publisher: Vintage Publishing
Publication Date: 01/05/2004
ISBN: 9780099449966
Free Home Delivery
on all orders
Pick up orders
from local bookshops
Reviews
Showing 1 - 2 of 2 reviews.
Review by john257hopper
16/06/2015
It has taken me a month to plough my way through this book, which is far too long and could easily be 250-300 pages instead of 500. The author is clearly very literate and has done her research, but the end result is mostly very dull and at the same time excessively flowery - the writing style is like wading through treacle much of the time. Disappointing.
Review by Opinionated
16/06/2015
Ann Wroe has written a fabulous book, bringing to life the personalities and politics of the Middle Ages, and given the relative lack of primary sources at her disposal, has done well to flesh out this story to the extent that she has. She is to be congratulated on her extensive use of contemporary European sources which show a very different view of the Pretender to the usual English sources. Engish sources were sure of the Warbeck story from as early as 1493, but Europeans were far less sure, and Wroe shows European monarchs such as Holy Roman Emperor Maximillian and Spanish monarchs Ferdinand and Isabella referring to Richard as the Duke or even as the King of England until a late date - and in Maximillian's case, until the end of his life. Whilst various European rulers certainly had political reasons for supporting a pretender, and may have known that this one was an imposter, their correspondence gives no clue of such knowledge; at times there was doubt and uncertainty as to whether he was Richard of York but they also had doubts that he was Perkin Warbeck. And in the case of Maximillian, Wroe shows him attempting to intevene to save Richard's life long after any political advantage could possibly have been gained from it - not something the Holy Roman Emperor would generally do for boatmen's sons from Tournai. Wroe is also excellent at sorting the surviving documents and references into the possibly / probably accurate and those constructed or amended for propaganda and political purposes and is good at emphasising the likely sub texts in all of these, including Perkin's Confession which she demonstates to have been, at the very least, amended by other parties I highly recommend this book for anyone wanting to know more about a great story and interesting footnote to English history. But be warned - Wroe, probably wisely, does not attempt to come to a conclusion about Perkin Warbeck's identity despite some sources (such as Wikipedia) stating that she thinks Warbeck actually was Richard of York. Rather , Wroe shows that even now we can't be sure who he was - and perhaps its not important. Perhaps the story is better read as a conflict between 2 constructed identities - the Richard, Duke of York identity constructed by disaffected Yorkists and the Perkin Warbeck identity constructed by Henry VII and his supporters. Probably he was neither of these people but Wroe shows why it was that the Perkin identity became accepted, depite its flaws, and how close he came to reaching the tipping point of being accepted as Richard of York.