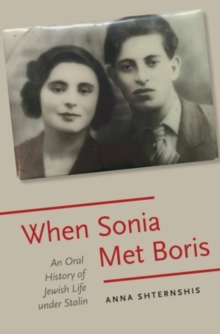 When Sonia Met Boris : An Oral History of Jewish Life under Stalin
Hardback
Description
Russian-speaking Jews from the former Soviet Union are a peculiarity in the Jewish world.
After decades living in a repressive, nominally atheistic state, these Jews did manage to retain a strong sense of Jewish identity-but one that was almost completely divorced from Judaism.
Today, more than ten percent of Jews speak or understand Russian, signaling the importance of an ever-vexing question: why are Russian Jews the way they are?
In pursuit of an answer, Anna Shternshis's groundbreaking When Sonia Met Boris draws on nearly 500 oral history interviews on the Soviet Jewish experience with Soviet citizens who were adults by the 1940s.
Soviet Jews lived through tumultuous times: the Great Terror, World War II, the anti-Semitic policies of the postwar period, and the collapse of the Soviet Union.
But like millions of other Soviet citizens, they married, raised children, and built careers, pursuing life as best as they couldin a profoundly hostile environment.
One of the first scholars to record and analyze oral testimonies of Soviet Jews, Shternshis unearths heartbreaking, deeply poignant, and often funny stories of the everyday choices Jews were forced to make as a repressed minority living in a totalitarian regime. Shternshis reveals how ethnicity rapidly transformed into a disability, as well as a negative characteristic, for Soviet Jews in the postwar period.
That sense of Jewish identity has persisted well into the twenty-first century, influencing the children and grandchildren of Shternshis's subjects, the foundational generation of contemporary Russian Jewish culture.
An illuminating work of social and cultural history, When Sonia Met Boris traces the fascinating contours of contemporary Russian Jewish identity back to their very roots.
Information
Format: Hardback
Pages: 264 pages
Publisher: Oxford University Press Inc
Publication Date: 18/06/2017
Category: European history
ISBN: 9780190223106
Free Home Delivery
on all orders
Pick up orders
from local bookshops
Also in the Oxford Oral History Series series | View all