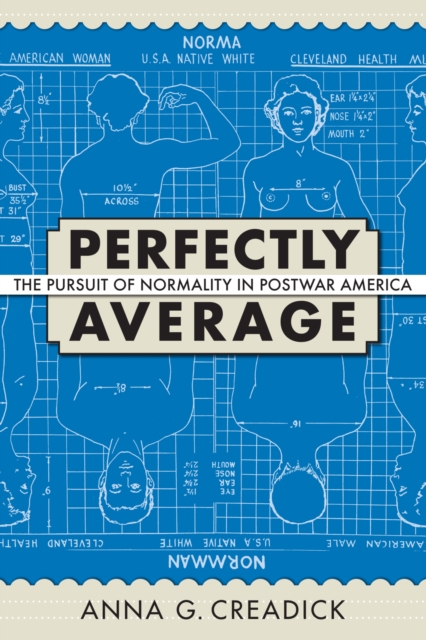 Perfectly Average : The Pursuit of Normality in Postwar America
Paperback / softback
Description
At the end of World War II, many Americans longed for a return to a more normal way of life after decades of depression and war.
In fact, between 1945 and 1963 the idea of ""normality"" circulated as a keyword in almost every aspect of American culture.
But what did this term really mean? What were its parameters? Whom did it propose to include and exclude? In Perfectly Average, Anna Creadick investigates how and why ""normality"" reemerged as a potent homogenizing category in postwar America.
Working with scientific studies, material culture, literary texts, film, fashion, and the mass media, she charts the pursuit of the""normal"" through thematic chapters on the body, character, class, sexuality, and community.
Creadick examines such evidence as the ""Norm and Norma"" models produced during the war by sexologists and anthropologists--statistical composites of""normal"" American bodies.
In 1945, as thousands of Ohio women signed up for a Norma Look-Alike contest, a ""Harvard Study of Normal Men"" sought to define the typical American male according to specific criteria, from body shape to upbringing to blood pressure.
By the early 1950s, the ""man in the gray flannel suit"" had come to symbolize what some regarded as the stultifying sameness of the ""normal-ized"" middle class.
Meanwhile, novels such as From Here to Eternity and Peyton Place both supported and challenged normative ideas about gender, race, and sexuality, even as they worked to critique the postwar culture of surveillance--watching and being watched--through which normalizing power functioned.
As efforts to define normality became increasingly personal, the tensions em-bedded in its binary logic multiplied: Was normal descriptive of an average or prescriptive of an ideal?
In the end, Creadick shows, a variety of statistics, assumptions, and aspirations converged to recast ""normality"" not as something innate or inborn, but rather as a quality to be actively pursued--a standard at once highly seductive and impossible to achieve because it required becoming perfectly average.
Information
Format:Paperback / softback
Pages:240 pages, 35 illustrations
Publisher:University of Massachusetts Press
Publication Date:30/10/2010
Category:
ISBN:9781558498068
Information
Format:Paperback / softback
Pages:240 pages, 35 illustrations
Publisher:University of Massachusetts Press
Publication Date:30/10/2010
Category:
ISBN:9781558498068