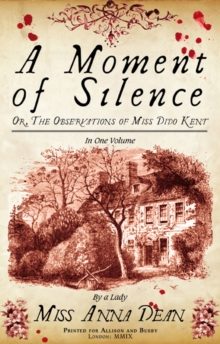 A Moment of Silence
Paperback
Description
It is Belsfield Hall, 1805. The sudden disappearance of her niece's fiance at their engagement ball leads Miss Dido Kent to worry that something sinister may have occurred.
Before long, her fears are confirmed. Family secrets, long consigned to the darkest recesses of the past, begin to emerge as Dido attempts to unravel the strange happenings.
But with the discovery of a body in the shrubbery, Mr Richard Montague's unexplained absence becomes all the more suspicious, and when she finally arrives at the startling truth, it is to change the lives of all involved for ever.
Information
Format: Paperback
Publisher: Allison & Busby
Publication Date: 11/05/2009
Category: Historical mysteries
ISBN: 9780749079949
Free Home Delivery
on all orders
Pick up orders
from local bookshops
Reviews
Showing 1 - 2 of 2 reviews.
Review by helen295
16/06/2015
A Moment of Silence is an entertaining murder mystery set in the early 19th century. It's the first in a series of novels featuring the wonderful Miss Dido Kent.The story begins when Dido is summoned to Belsfield Hall, the country estate of the Montague family. Her niece Catherine is engaged to Sir Montague's son Richard - who has mysteriously disappeared during their engagement party. Dido agrees to help Catherine solve the mystery behind Richard's disappearance, but events soon take a more sinister turn when a dead body is found in the shrubbery...This was a light, easy read which should appeal to fans of Jane Austen due to the setting and the elegant, witty writing style - although I'm not a huge Austen fan and I still loved it! A Moment of Silence has all the elements of a classic English country house mystery: clues, red herrings and lots of possible suspects, with almost every one of the guests and family members concealing a secret of some kind. Although some of the clues were quite obvious, there were others that I didn't figure out and the mystery was interesting enough to hold my attention right to the end.But rather than the mystery itself, the main reason I loved this book was because of Miss Dido Kent, who is a wonderfully engaging character. She's intelligent, observant and always speaks her mind, though usually in a good-natured way. Although we're not told exactly how old she is (unless I missed it) she's unmarried and her 'spinster' status gives her the freedom to investigate and to wander around the estate asking questions and interfering - always with the best intentions of course! I loved reading Dido's letters updating her sister Eliza on the progress of her investigations (we never actually meet Eliza, but the letters are intended to allow us some insights into Dido's private thoughts and musings).I can't wait to read more Dido Kent mysteries. This was a great start to the series and I'm looking forward to reading the second, A Gentleman of Fortune.
Review by deborahswift
16/06/2015
Also published in the US as "Bellfield Hall",this is a very clever and entertaining book which starts with a body in the shrubbery and then piles on layers of mystery for the reader to solve. Or rather, the reader follows breathlessly behind the delightfully astute Dido Kent, a Regency lady sleuth, who gently teases the truth from the clues. An excellently-crafted novel with all the atmosphere and wit of classic Jane Austen,I loved the wickedly observant Dido Kent and will be over to the bookstore for more.