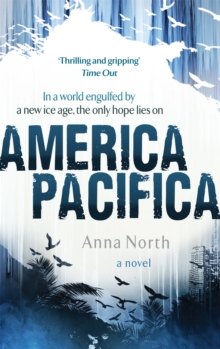 America Pacifica
Paperback
Description
Hundreds of miles off the frozen coast of what was once California is America Pacifica, where those who fled the dawn of the new ice age have tried to recreate their former home . . .America Pacifica is an island hundreds of miles off the coast of California - the only warm place left in a world in the grip of a new ice age.
Darcy Pern is seventeen; her mother has gone missing, and the novel details her quest to find out the truth about her disappearance - a quest which soon becomes an investigation of the disturbing origins of America Pacifica itself, and its sinister and reclusive leader, a man known only as Tyson.America Pacifica invites comparison with the work of Margaret Atwood and China Mieville, but also with Cormac McCarthy's The Road, for its post-apocalyptic scenario and the touching relationship between Darcy and her mother, and the Stieg Larsson trilogy for its implacable central character who is determined to uncover the truth.
Information
Format: Paperback
Pages: 304 pages
Publisher: Little, Brown Book Group
Publication Date: 01/07/2012
ISBN: 9781844086917
Free Home Delivery
on all orders
Pick up orders
from local bookshops
Reviews
Showing 1 - 1 of 1 reviews.
Review by AdonisGuilfoyle
16/06/2015
A beautifully written, darkly dystopian novel about a colony of survivors after the second ice age, who move to America Pacifica, the last remaining inhabitable island off the Californian coast. There, teenage heroine Darcy Pern lives with her mother Sarah in abject poverty, working in an old folks' home and returning to the same squalid room, until one night Sarah doesn't come back from work. Darcy's quest to find her mother, and uncover the truth about the island and its founder, sends her reeling between strange encounters with shadowy figures from the mainland and deeper into danger.First of all, I really like Anna North's style. Even when the plot was starting to come unhinged, I enjoyed reading her way with words, like, 'She wished her mother was something she could keep in a closed fist, like a coin' or 'women's whispers, like dishwater swishing in a tub'. And her world-building is incredibly evocative, if deeply depressing - I could almost feel the heat and the damp, and taste the 'cheese product', whatever that is.The story left me slightly bemused, however - I got the feeling that North was writing a heavy-handed allegory of colonialism, but I'm probably thinking too hard! A guy named Tyson engineers the evacuation to America Pacifica, where the same privileges and iniquities of the old world are re-established. However, a band of orphans from the mainland choose to believe the word of another ice age icon, a man called Daniel who fought against Tyson's mass emigration, and rise up against their downtrodden existence on the island. Darcy and her mother are caught in the centre of this revolution, and Darcy must decide whether to stay and fight or return to the mainland to look for Daniel and any other survivors. I honestly think I missed a page somewhere, though, because the pace suddenly jumps from an agonising search for Sarah into a full-blown war. And the ending was tantalisingly vague.Depressing but exquisitely detailed, Anna North's debut novel is more of an experience than a novel, but thought-provoking and satisfying all the same.
Also by Anna North