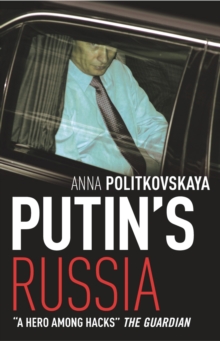 Description
Internationally admired for her reporting, especially on the Chechen wars, award-winning journalist Anna Politkovskaya has turned her steely gaze on the man who, until very recently, was a darling of the Western media.
A former KGB spy, Vladimir Putin was named President of Russia in 2000.
From the moment he entered the public arena he marketed himself as an open, enlightened leader eager to engage with the West.
Unlike many European and American journalists and politicians, Politkovskaya never trusted Putin's press image.
From her privileged vantage point at the heart of Russian current affairs, she set about to dismantle both Putin the man and Putin the brand name, arguing that he is a power-hungry product of his own history and so unable to prevent himself from stifling civil liberties at every turn.
This is not, Polikovskaya argues, the kind of leader most contemporary Russians want. To prove her theory, she tells the story of Putin's iron grip on Russian life from the point of view of individual citizens whose situations have been shaped by his unique brand of tyranny.
Mafia dealings, scandals in the provinces, military and judiciary corruption, the decline of the intelligentsia, the tragic mishandling of the Moscow theatre siege - all are subject to Polikovskaya's pitiless but invariably humane scrutiny.
This intimate portrait of nascent civil institutions being subverted under the unquestioning eyes of the West could not be more timely.
Information
Format: Paperback
Pages: 320 pages
Publisher: Vintage Publishing
Publication Date: 14/10/2004
Category: European history
ISBN: 9781843430506
Free Home Delivery
on all orders
Pick up orders
from local bookshops
Reviews
Showing 1 - 2 of 2 reviews.
Review by john257hopper
16/06/2015
This was a very depressing read. The author was a famous Russian journalist who was assassinated two years after writing this book. She is extremely cynical about Putin's style of rule, and the book is written in a rather unstructured and slightly shrill tone, that is a little reminiscent of Solzhenitsyn's Gulag Archipelago. While the horrors catalogued in this book are not as widespread and appalling as what happened under Stalin, they strike home with great force as they are very recent and took place while Russia was nominally a democracy and accepted, broadly speaking, as more of an intentional partner than was the case under Stalin, except during the war. The corruption she describes in the armed forces, police and judiciary; the treatment of experienced professionals and new military recruits alike; the barbaric and racist treatment meted out to all Chechens by Russian officials and soldiers on the morally perverse notion that the whole of their nation must be terrorist due to the actions of a few; the use of poison gas killing nearly 200 of the hostages during the Nord Ost theatre siege; all of these combine to leave a very nasty taste in the mouth. Putin has destroyed Russia's post-communist hope, flickering and inconsistent under Yeltsin, but definitely present, through his cynical and callous disregard for many basic human values, and most Russian citizens appear not to care. For the sake of the future of that great nation, let there be some grounds for some optimism and hope for the development of a pluralist and less cynical society in the years ahead.
Review by Periodista
16/06/2015
Fragmented, but the tragic stories of particular individuals and families, abused soldiers, their stalwart mothers, the victims and survivors of the Nord-Ost theater seizer, Chechnyans in Russia, the old female friend that got rich ... give a feeling of what it's like to live in Russia today.