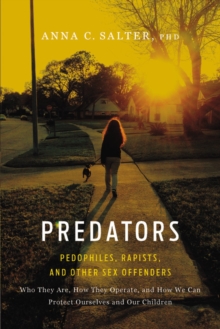 Predators : Pedophiles, Rapists, and Other Sex Offenders
Paperback
Description
What motivates sexual abusers? Why are so few caught? Drawing on the stories of abusers, Anna C. Salter shows that sexual predators use sophisticated deception techniques and rely on misconceptions surrounding them to evade discovery.
Arguing that even the most knowledgeable among us can be fooled, Salter dispels the myths about sexual predators and gives us the tools to protect our families and ourselves.
Information
Format: Paperback
Pages: 288 pages
Publisher: INGRAM PUBLISHER SERVICES US
Publication Date: 10/03/2004
Category: Sexual abuse & harassment
ISBN: 9780465071739
Free Home Delivery
on all orders
Pick up orders
from local bookshops
Reviews
Showing 1 - 3 of 3 reviews.
Review by kaulsu
16/06/2015
This is a book which outlines in smarmy detail what sexual predators do, how they do it, when they do it, and to whom they do it.It is written by a psychologist who has conducted many, MANY first-hand interviews with convicted felons. She has filmed some of these interviews. In addition to many books on child molestation, she is the author of multiple fiction works dealing with psychopaths.She writes that there are no check lists to determine who is likely to be a predator. She basically advises that we look at each male in our lives "as if."I think I would have given the book a half-star rating except for the final chapter. In that chapter, she tells parents to be involved in their children's lives. On so many levels, this is true.I do NOT think we should bury our heads in the sand. We should take reasonable and sane precautions in our lives. But I refused, as a parent, to smother my child such that they were afraid to smile at anyone in public. And to this day, I refuse to think the worst first.I try to live a balanced life. I don't walk down dark alleyways at night. At the same time, I refuse to look askance at every man I meet. This book was given to me to read by someone whom I fear does not have a healthy attitude toward life. It is a sad book. It has colored my response to the giver.
Review by KWoman
16/06/2015
Although this book brings vital information to the reader, it's a bit lackluster in parts-boring to me even. Factual most definitely-but I feel that the author could have been a bit more thorough in some of her studies/interviews. All in all, a good book that presents the nature of these horrible individuals.
Review by knightlight777
16/06/2015
This book should be a must read for parents and anyone else socially responsible to recognize and report instances of child abuse. Dr. Salter does a thorough and necessary job informing and educating us on the pervasive problems these miscreants pose in our society. It is truly scary to read how rampant and widespread these offenses are around us everyday and how easy it is especially for the child predators to worm they way into position. It is up to us all to be on guard to combat the epidemic and this book is a good start to understanding the why's and how's of this most serious problem.