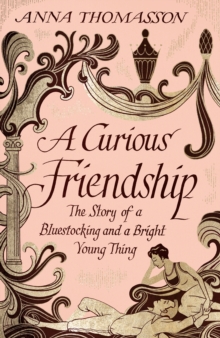 A Curious Friendship : The Story of a Bluestocking and a Bright Young Thing
Hardback
Description
The winter of 1924: Edith Olivier, alone for the first time at the age of fifty-one, thought her life had come to an end.
For Rex Whistler, a nineteen-year-old art student, life was just beginning.
Together, they embarked on an intimate and unlikely friendship that would transform their lives.
Gradually Edith's world opened up and she became a writer.
Her home, the Daye House, in a wooded corner of the Wilton estate, became a sanctuary for Whistler and the other brilliant and beautiful younger men of her circle: among them Siegfried Sassoon, Stephen Tennant, William Walton, John Betjeman, the Sitwells and Cecil Beaton - for whom she was 'all the muses'.
Set against a backdrop of the madcap parties of the 1920s, the sophistication of the 1930s and the drama and austerity of the Second World War and with an extraordinary cast of friends and acquaintances, Anna Thomasson brings to life, for the first time, the fascinating, and curious, friendship of a bluestocking and a bright young thing.
Other Formats
Paperback from £8.59
EPUB from £7.99
Free Home Delivery
on all orders
Pick up orders
from local bookshops
Reviews
Showing 1 - 1 of 1 reviews.
Review by starbox
27/01/2016
"A non-fictional Brideshead Revisited", October 20, 2015This review is from: A Curious Friendship: The Story of a Bluestocking and a Bright Young Thing (Kindle Edition)Having read and enjoyed three of Edith Olivier's works, I pounced upon this biography in the library. The author introduces us to Edith's early life, as dutiful daughter of a stern Victorian clergyman, and after his demise as devoted sister.But it was after her sister's death, when Edith was fifty-one, that her life completely changed. 'Taken up' by well-to-do friends, Edith soon became centre of quite a salon of young notables. Cecil Beaton, Stephen Tennant, Siegfried Sassoon....and Rex Whistler.Aided in large part by Edith's diaries, the author charts the long relationship between the pair.:"At times (Edith) even sounds like Agatha in 'The Love Child'. Her ever-increasing protectiveness and adoration were at once romantic and maternal."I felt Anna Thomasson did an excellent job of exploring the complexities of their friendship, and the outside influences that would sometimes take Rex away for a while. Throughout it all was the sanctuary of Edith's Wiltshire home, Daye House, but in the background the clouds of World War 2 were brewing...Fascinating read for all those interested in the lead characters - or indeed their 'set'.
Also by Anna Thomasson