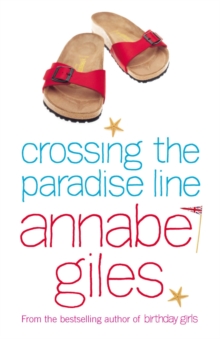 Crossing the Paradise Line
Paperback
Description
A holiday in the sun with your family - just what you want, or the last thing you need? For single parent Tessa, it's going to be a perfect time for some much-needed mother-daughter bonding. And you never know, she might even get a holiday romance out of it.
Yeah, right. For Felicity, glamorous career woman, absentee mother and distracted wife, it's going to be an endurance test, especially as her husband Cliff's ghastly family have come too.
For the staff at the resort, it looks like justanother boring fortnight in paradise.
But then disaster strikes and everyone is stranded on the island. And that's when things really start to get interesting...
Information
Format: Paperback
Pages: 416 pages
Publisher: Penguin Books Ltd
Publication Date: 03/07/2003
ISBN: 9780141005690
Free Home Delivery
on all orders
Pick up orders
from local bookshops
Reviews
Showing 1 - 2 of 2 reviews.
Review by ErasmusBee
16/06/2015
This novel is aptly described by the heroine, Tessa, who is reading a book while she sun bathes, "She'd got a bit further on with the book, which was turning out to be much better than she'd thought, having been written by some D-list celebrity, probably trying to revive her flagging career." Tessa books a package holiday to spend time with her teenage daughter, but doesn't see much of her and ends up going on a voyage of self-discovery. It sounds horribly cliché but I was pleasantly surprised. Things get more interesting when she meets Felicity, whose brother-in-law is the resort manager of Seaside Villages, and the women develop the platonic equivalent of a holiday romance. At first I felt that the characters were more caricatures, but the author approaches this novel with good humour and Austenian sense of irony which meant they were consistent and, ultimately, convincing. The development of the relationships between the characters in this microcosm was really well done, but one criticism would be that the novel uses these relationships to tackle too many 'issues'. I found the writing style to be rather annoying at first but I think in the end it was successful in conveying the atmosphere of the institution that is The Package Holiday. This book isn't bad for a quick read, despite being a bit of a no-brainer. Unapologetic chick-lit through and through. I would recommend it for holidays in the sun mainly because I ended up thoroughly sickened by the rubbish weather that I had to put up with in comparison!
Review by elliepotten
16/06/2015
I picked this up on a whim over the summer for a bit of light holiday reading - but naturally, got sidetracked by other books and ended up reading it in blustery November! It's one way to bring back that sunshiney feeling, I suppose...Anyway, it was a suprisingly good read, all things considered, with enough individuality to make it stand out from the chick-lit crowd. It's set at the Seaside Village, an island resort run by gorgeous Italian stallion Fabio. The week's incoming 'Bright Whites' (as opposed to the 'Nutty Browns', who have already been there a week) include Fabio's brother Cliff and sister-in-law Felicity, as well as the brothers' mum Gina and Cliff's two children. Felicity is a workaholic mother dreading their fortnight away, given that she has Cliff's entire family along for the ride. When she meets Tessa, a single mum who's come for some mother-daughter bonding with sixteen year-old Sammy, only to lose her to the 'cool' teenage crew on the island, the women form an instant bond. But all is not well in paradise, and when disaster strikes, stranding them on the island, it can only be a matter of time before things start to fall apart...I really liked the premise of this book. Family holiday in paradise turns into the holiday from hell - how will they cope? What is the mysterious crisis Fabio is trying so hard to keep from his guests? Families are ripped apart and drawn together, romances chop and change, friendships are formed and broken, allegiances are switched, and cracks start to appear in the resort's glossy facade as staff and tourists alike struggle to keep things together. There is plenty of giggle-aloud humour, but also a couple of surprisingly moving parts where I found myself tearing up. The family relationships are beautifully observed, and over the course of the novel I was completely immersed in the characters' lives within the societal microcosm of the resort. A cracking little novel for a bit of light reading!