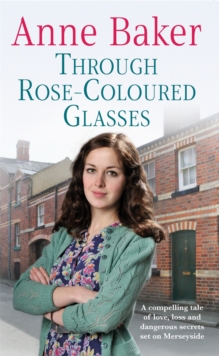 Through Rose-Coloured Glasses : A compelling saga of love, loss and dangerous secrets
Paperback / softback
Description
A whirlwind romance changes a young woman's life forever...
Anne Baker writes a spellbinding saga in Through Rose-Coloured Glasses, in which a young woman's rash decision leads her into new dangers.
Perfect for fans of Lyn Andrews and Nadine Dorries. Dinah Radcliffe doesn't have much money to spend on the finer things in life, but she shares a contented existence with her mother, Sarah.
They have seen their share of troubles since Dinah's father was killed in the Great War, but the Radcliffes have always made the best of things.
When Dinah meets widowed businessman Richard Haldane at the races, her life changes beyond recognition.
Richard sweeps Dinah off her feet, dazzling her with a glimpse of wealth and privilege beyond her wildest dreams, and they are married in a matter of weeks.
But Richard is not the man Dinah thought he was. Soon, she's learning that money can't buy you happiness. And that she's married to a man who takes far more dangerous risks than just betting on his horses... What readers are saying about Through Rose-Coloured Glasses: 'Now this book I really could not put down.
It had everything that makes a good book. As well as a really good story there was mystery and twists and turns throughout.
I empathised with the main character almost immediately but there were so many times when I wondered if my sympathies were with the right person.
A really intriguing story from a first-rate author''I found this book absolutely brilliant and hard to put down!
The plot was very well written and flowed well from the beginning, and I can honestly say there wasn't a part that I disliked ...I would recommend this book to all my friends!'
Information
Format: Paperback / softback
Pages: 512 pages
Publisher: Headline Publishing Group
Publication Date: 08/07/2010
ISBN: 9780755356652
Free Home Delivery
on all orders
Pick up orders
from local bookshops