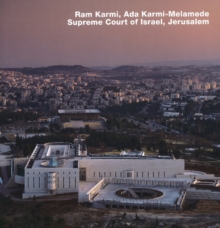 Ada Karmi-Melamede and Ram Karmi, Supreme Court of Israel, Jerusalem : Opus 71
Hardback
Description
Intent on realising her late husbands vision, Dorothy de Rothschild first offered to provide funding for a new building housing the Supreme Court of Israel in the 1960s.
In 1983 the offer was seriously considered and accepted.
Renowned architects from Israel and from all over the world entered into a two-stage competition in 1986.
Ada Karmi-Melamede and Ram Karmi, siblings their own architecture practices, were asked to compete as a team.
Their contribution stood out clearly against the other entries.
Instead of proposing a formal and monumental scheme, the Karmis came up with a coherent site-specific building which roots itself into the land, continues the stone language of Jerusalem, and relates to its unique vibrant light.
Pure geometrical volumes are arranged to form a balanced composition and complex whole.
A careful equilibrium is created between the gravity of local stone-masonry walls and the immaterial play of light and shadow in the voids and volumes of the structure.
The Supreme Court acts as part of a larger civic urban ensemble and forms a gateway to Government Hill offering a pedestrian walkway to the Knesset. While referred to as a single building, in reality the Supreme Court building is an ensemble applying urban principles to the interior, thus producing public spaces throughout.
Half architecture, half landscape architecture, the building is deeply anchored in its site and reaches out further than its own walls.
Four main functions are manifested in four distinct geometric volumes organised by two cardinal axes.
These axes separate the four main program elements: the library, the judges chambers, the courtrooms and the parking area.
The allocation of the various volumes within the building allows for a sequence of in-between spaces which are used for circulation, for the penetration of natural light and for the transition between the public and private domains.
Paul Goldberger stated in The New York Times in 1995 that "the sharpness of the Mediterranean architectural tradition and the dignity of law are here married with remarkable grace.
Information
Format: Hardback
Pages: 60 pages, 60 colour photos
Publisher: Edition Axel Menges
Publication Date: 25/07/2009
ISBN: 9783932565717
Free Home Delivery
on all orders
Pick up orders
from local bookshops