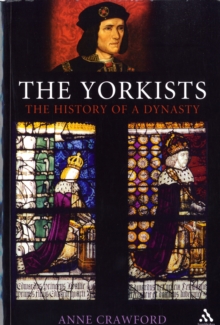 The Yorkists : The History of a Dynasty
Paperback / softback
Description
The Yorkist dynasty includes both the most wicked king in English history, Richard III, and the most tragic, his nephew Edward V, one of the Princes in the Tower.
They came to the throne in 1461, when Edward IV, who traced his claim to Edward III, replaced the ineffectual Henry VI as king.
Forced into exile in 1470, Edward returned to power after the bloody battle of Towton in 1470 finally ended Lancastrian opposition.
His reign was ended by his premature death in 1483, leaving behind his son Edward, a minor, as his heir.
This led to Richard III's usurpation, ended two years later by his defeat and death at Bosworth Field at the hands of Henry Tudor, who would become Henry VII and the founder of a new dynasty by marrying Elizabeth of York, the daughter of Edward IV.
The Yorkists were one of the two main contending parties in England's first great civil war, the Wars of the Roses.
They have been immortalised by Shakespeare not only in his Richard III but also in his three parts of Henry VI. Anne Crawford examines the truth behind both the characters of these kings and behind the stories in the plays, including the death of the duke of Clarence by drowning in a butt of malmsey and the celebrated murder of his nephews, Edward V and Richard, Duke of York, by their uncle, Richard III.
Information
Format: Paperback / softback
Pages: 234 pages, 1, black & white illustrations
Publisher: Bloomsbury Publishing PLC
Publication Date: 01/12/2007
Category: British & Irish history
ISBN: 9781847251978