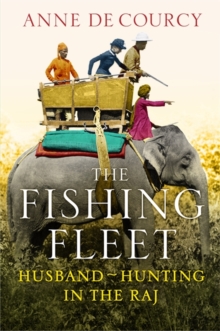 The Fishing Fleet : Husband-hunting in the Raj
Hardback
Description
The untold stories of the young women who went out to India during the Raj in search of husbands.From the late 19th century, when the Raj was at its height, many of Britain's best and brightest young men went out to India to work as administrators, soldiers and businessmen.
With the advent of steam travel and the opening of the Suez Canal, countless young women, suffering at the lack of eligible men in Britain, followed in their wake.
This amorphous band was composed of daughters returning after their English education, girls invited to stay with married sisters or friends, and yet others whose declared or undeclared goal was simply to find a husband.
They were known as the Fishing Fleet, and this book is their story, hitherto untold.
For these young women, often away from home for the first time, one thing they could be sure of was a rollicking good time.
By the early twentieth century, a hectic social scene was in place, with dances, parties, amateur theatricals, picnics, tennis tournaments, cinemas, gymkhanas with perhaps a tiger shoot and a glittering dinner at a raja's palace thrown in. And, with men outnumbering women by roughly four to one, romances were conducted at alarming speed and marriages were frequent.
But after the honeymoon life often changed dramatically: whisked off to a remote outpost with few other Europeans for company and where constant vigilance was required to guard against disease, they found it a far cry from the social whirlwind of their first arrival.
Anne de Courcy's sparkling narrative is enriched by a wealth of first-hand sources - unpublished memoirs, letters, diaries and photographs - which bring this forgotten era vividly to life.
Information
Format: Hardback
Pages: 352 pages, 30 Illustrations, unspecified
Publisher: Orion Publishing Co
Publication Date: 01/07/2012
Category: British & Irish history
ISBN: 9780297863823
Other Formats
Paperback from £8.85
EPUB from £5.99
Free Home Delivery
on all orders
Pick up orders
from local bookshops
Reviews
Showing 1 - 2 of 2 reviews.
Review by AnglersRest
16/06/2015
When the author was undertaking her research we did correspond rather briefly, but my interest regarding my ancestral links to India was out of the time frame for Anne's book.I waited rather eagerly for the book to be published. Once it hit the shelves of my local library I managed to grab the book and then quietly enjoy it.The book looks at women who migrated to India looking for a husband during the period of the mid 19th Century until 1947, when India gained it's Independence.I loved the colour of the cover which for me set the tone of the book. I enjoyed the depth of the research, which was gathered from letters and memoirs of the time and the focus of the book.There is a suitable explanation of why the women were there, and why they risked travelling the globe to find a husband, but there was little detail on how the women adapted to the change in culture and their experiences. The author further explores the processes in India at this time, the bureaucracy of India and mixed raced children and how they were viewed.Despite all that, I was a little disappointed. There is little scope given to how these women coped, not only with the country and culture, but also how they experienced married life with the men they met in India. I felt as though the author ran out of steam with the subject matter before the end of the book.I enjoyed it, but it could have been better.
Review by RebaRelishesReading
16/06/2015
From the mid-19th century until independence in 1947, women from England who were in search of a husband headed to India where English men outnumbered English women 4 to 1. Anne de Courcy introduces these women, their quest in India and, if they were successful, the life they ultimately led in The Fishing Fleet. In researching her book she was allowed access to the private letters, diaries, journals and memoirs of nearly thirty of these young women. The women of the "fleet" generally were either the daughters of families living in India who were returning after their years at school in England or "gentle women" who lacked the fortune, beauty or charm to find a "suitable" husband at home. Especially in the 19th century their options were to remain a "spinster" and find employment as a companion or governess at home or look for marriage in India.The stories of the young women are quite interesting but I enjoyed the descriptions of life in India even more so. Although I had a general idea of what life was like from reading fiction set there, Ms. deCourcy provides a closer, more detailed look. I give it 4 stars.Edit | More