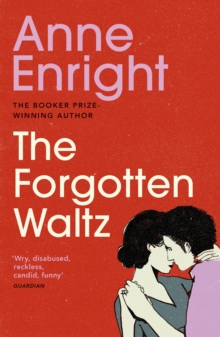 The Forgotten Waltz
Paperback
Description
Shortlisted for The Orange Prize for Fiction 2012 If it hadn't been for the child then none of this might have happened.
She saw me kissing her father. She saw her father kissing me. The fact that a child got mixed up in it all made us feel that it mattered, that there was no going back.
Information
Format: Paperback
Pages: 240 pages
Publisher: Vintage Publishing
Publication Date: 01/03/2012
ISBN: 9780099539780
Free Home Delivery
on all orders
Pick up orders
from local bookshops
Reviews
Showing 1 - 3 of 3 reviews.
Review by Berly
16/06/2015
Well, I am not alone. No one in my book group liked Forgotten Waltz, by Anne Enright. It was supposedly "a tour de force" in the reviews and satirically funny, but I beg to differ. I wasn't attracted to any of the characters. After reading Gina's descriptions of her husband and lover, I couldn't figure out for the life of me why she fell for them in the first place. I also kept waiting for more on the story of the daughter, and how all of this infidelity had affected her, but not much was forthcoming. And worst of all, Enright circled back around through the whole mess again and the literary trick of seeing things from a new viewpoint, or with more knowledge, did nothing to help. I cringed when I saw we were back at the beginning. I grudgingly give it two stars, simply because I did finish it. Maybe I should re-evaluate my ranking system.
Review by edwinbcn
16/06/2015
Readers' appreciation of a novel often depend on the extent to which they can identify with the main character. In The forgotten waltz, the main character, Gina Moynihan is a selfish and egotistical woman, and therefore, readers tend to dislike the character as well as the novel.It is brave of Anne Enright to write a novel in which the narrator is a dislikable character. As a type, this protagonist is probably universal: a self-conscious, ambitious and modern woman, who is driven by unscrupulous lust and ambition. She is not 100% bad or evil. She is just that type of person, perhaps quite typical of the 1990s and early decades of the 21 century, that type of go-getter, with a good job, an eye always on stock market and real estate prices, believing social darwinism means cruelty is part of social competitiveness. Naturally, this is not the way she perceives herself. In her own self-perception, Gina appears a quite normal, emancipated woman. There are some (not so) subtle hints in the first part of the books that Gina would think of herself as particularly pure, worried of smut and dirt. There are several times references suggesting that other people are abnormal or weak, in her eyes. Gina's character is soon enough clear to the reader, who will realize that Gina should be considered an unreliable narrator. Her analysis of social relations, or morals and of her own motivations is incorrect.While omitting any specific reasons, Gina seduces Seán Vallely at a barbecue party in her sister's garden. The total randomess of their relationship is emphasised by Gina's characterization of how it came about. She was looking intently at a man who was turned away from her. Had he not turned around, she would have let him go, but as he did turn around and face her, she made her move.From the way Gina has described her husband Conor, mentally undressing him as in her mind she strips his well-built body -- a jacket, and under that a shirt, and under that a T-shirt, and under that a tattoo...-- it is clear that Gina picks her man on physical appearance and her own lust rather than anything else. The fact that Seán is married matters not to her. The time when adultery was a man's thing lies far in the past.Apparently, Gina is very successful at seducing Seán, but meets one obstacle: the couple's daughter, Evie. The child is a factor that Gina has not reckoned with, and completely underestimates.Ever since Freud, it is clear that children are no longer just innocent. The novella that first attested to that insight is probably Henry James' What Masie knew. The forgotten waltz is a modern variation on this theme.Anne Enright's prose is almost as understated as that of Beryl Bainbridge, but gives the reader more clues. Likewise, The forgotten waltz is a fairly thin novel.True, The forgotten waltz was not quite an enjoyable read, but then leaves the reader with a lot to ponder.
Review by binadaat
16/06/2015
I read about 70 pages. I didn't like the subject: Adultery. <br/>Her writing is wonderful. Like something creamy and sweet that melts on your tongue. It was a pleasure but I became satiated quickly.