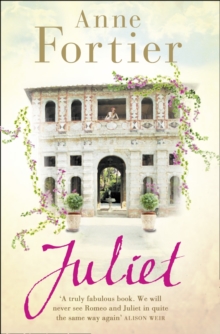 Description
A beautifully crafted novel, following a young woman who discovers that her family's origins reach all the way back to literature's greatest star-crossed lovers - Romeo and Juliet.'Of all the great love stories ever told, hers is perhaps the most famous.To me, she is the key to my family's fate.
To you, she is Juliet.'When Julie Jacobs inherits a key to a safety deposit box in Siena, she is told it will lead her to an old family treasure.
Soon she is launched on a precarious journey into the true history of her ancestor Giulietta, whose legendary love for a young man named Romeo inspired Shakespeare's unforgettable story.As Julie crosses paths with the descendants of the families who turned medieval Siena upside down, she begins to realize that the notorious curse, 'a plague on both your houses!' is still at work.
It seems that the only one who can save her from her fate is Romeo - but where is he?Spanning centuries, Juliet is an unforgettable adventure that hopes to rewrite the fate of the star-crossed lovers, and reunite them at last.
Information
Format: Paperback
Pages: 528 pages
Publisher: HarperCollins Publishers
Publication Date: 19/08/2010
ISBN: 9780007321865
Free Home Delivery
on all orders
Pick up orders
from local bookshops
Reviews
Showing 1 - 3 of 3 reviews.
Review by nicx27
16/06/2015
I must say that I do not understand some of the poor reviews that this book has received. I found it to be a really enjoyable adventure story, with some interesting historical content thrown in.It is essentially a twist on the Romeo and Juliet story, but not as Shakespeare wrote it. This dates back to before he wrote his well known story.Guilietta (or Julie, as she has been known), travels to Italy to find some old family treasure and trace her heritage, and finds herself involved in an extremely readable adventure.This is a long book (512 pages) and it maybe could have done with a bit of pruning, but the length didn't bother me. I loved the way the writer brought a lot of strands together, although it did get a little confusing in places. It's obvious that she has done lots of research and really cares about the story.This isn't really that serious a story though, and should be approached in a quite light-hearted way. It will appeal to anybody who likes dual-time narrative books and historical fiction, and also adventure stories.
Review by mrn945
16/06/2015
I have always loved Shakespeare's Romeo and Juliet. I read the play a number of times in law school, swooning each time - typical girl. So, when I came across a novel which claimed to tell the true story about the star-crossed lovers, I was immediately hooked.Luckily, the novel works - for the most part. The aspects set in the 1340's, the time of the real pair, were well done. The era was beautifully described, and you could understand why they two fell so passionately for one another that they were willing to risk death to be together.The parts set in modern time wasn't quite as well done. In the beginning of the novel, I was excited. The characters were interesting and engaging, and I loved the descriptions of Siena. However, instead of just allowing the modern Juliet to search for the familial connection between herself and the first Juliet while falling in love - which would have been an interesting story in itself - the author felt the need to add in a thriller twist. The thriller aspect felt completely out of place and it definitely tainted the ending of the novel a bit for me.Regardless, this was an interesting read. The language was warm and romantic - much like Siena I imagine. So, I do recommend you read this book, despite the fact that the mob twist was a bit absurd.
Review by sunnycouger
16/06/2015
I'm in love with this book. That's not an understatement, I would probably have picked it straight up and read it again but, I'm so behind schedule that it wasn't an option (although I might have to stick a post-it on the front to remind myself in future ;))<br/><br/>I've always been the stereotypical woman who has swooned appropriately at Romeo &amp; Juliet so I picked this book up thinking it would be a fun modern re-write that I could forget about soon after. Turns out though that this was so much more - it went beyond the Shakespeare tale (and was the better for it) and mingled pastlives, romance, destiny, soulmates, history, crime, mystery, adventure, betrayals and all the fun stuff to make a book that I want to re-read immediately. I'm a sucker for all that so it's like the book was written exactly to my own specifications, which I clearly cannot complain about at all. Also - added bonus, every chapter is prefaced with a R&amp;J quote - how can you not appreciate that?<br/><br/>It's set for the most part in Siena and the descriptions of the town makes the locales easy to imagine even for someone who has never been there and I almost want to go and book a holiday to Siena solely to experience some of it. The two tales - modern and past blend together beautifully and it says a lot about the author that I was equally invested in both stories, even though I knew that one was going to end tragically. The premise involved Julie travelling to Italy on a quest to get something her mother had bequeathed her after her aunt died, in the belief that it will be worth a lot of money and clear her debts after she was written out her aunt's will unexpectedly. In Italy, she travels under her real name, Giulieta Tolomei and discovers that her family is at the centre of an ancient feud with another family and that her name holds some medieval weight nowadays. Her inheritance turns out to be some books and a crucifix, and disappointed begins to read in the hope it explains where the treasure is and the book turns out to be a diary that talks about Giulieta and Romeo, her ancestor and her lover who were the inspiration for the early Italian tellings of Romeo &amp; Juliet before Shakespeare got ahold of it.<br/><br/>It was a wonderful book, and although I'm sure there were aspects of it that people could find fault with - the characterisation of Janice was maybe a little ott and a little out there, but I didn't really mind it that much tbh. I just didn't mind it that much, and I honestly didn't have any complaints. It checked every box that I could possibly want it to check and the balance just felt right.<br/><br/>The film rights to this have been sold already. As a person who loved the book as completely as I did, I'm delighted to have another way to enjoy it but I just really hope they do it justice. No crappy casting choices just to have some big name in the role who is completely unsuitable, and although I love her, no Amanda Seyfried either. If they are going to botch up the casting, I'd rather they just left it personally.<br/><br/>Now I'm just sad that this was a new release - it means I'm going to have years for the author's follow-up book.