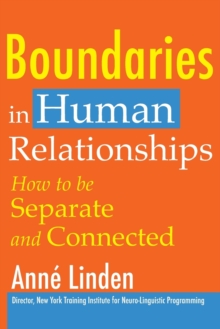 Boundaries in Human Relationships : How to be separate and connected
Paperback / softback
Description
Boundaries are what keep us separate from other people.
But they also connect us to them. Being able to manage the boundaries in our relationships enables us to stay fulfilled, happy and productive, and move beyond our psychological and emotional blocks.
Boundaries in Human Relationships delves deeply into the meaning of boundaries, how to manage them and provides the practical skills and tools necessary to use them to our advantage. You will learn to understand exactly what boundaries are, recognise when you need them and how to create and maintain them using three simple skills: a clearly defined structure of boundaries specific practical steps for creating and managing boundaries - with examples and exercises an in-depth exploration of the significant areas of relationships and self-esteem through the lens of boundaries. The most important distinction anyone can ever make in their life is between who they are as an individual and their connection with others; Can you truly love another and be the whole, complete and unique person you are?
How do you know the difference between your fear and your partners' fear? Or between your past anger and your here-and-now anger?
The answer is boundaries and this is a practical guide to unlocking these mysteries.
Information
Format: Paperback / softback
Pages: 200 pages
Publisher: Crown House Publishing
Publication Date: 19/02/2008
Category: Family & relationships
ISBN: 9781845900762
Also by Anne Linden