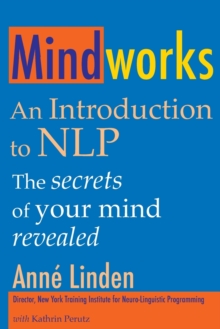 Mindworks : An Introduction to NLP
Paperback
Description
How do you motivate yourself? What is it that you habitually do but are unaware of that controls the outcomes of your life?
Becoming aware means gaining the power to choose between what you do (or think) 'automatically' and what you would like to do.
By becoming conscious of how your hidden (unconscious) mind actually works and applying the very simple techniques demonstrated in "Mindworks" you can make changes that lead to new thinking and new behaviour.
Instead of telling yourself 'I'm not good enough' you can switch in an instant to telling yourself 'I can do it!' Instead of seeing on out-of-focus picture of your goal, you can have a clear, sharp image that leads you directly to it. "Mindworks" shows you how to 'change' your mind, reprogram your thoughts, gain control of your fears and fulfil your desires and potential.Anything is possible - when you know your own mind!"Mindworks" will show you how to: say what you mean to get others to respond the way you want; use principles of the new linguistics to communicate more precisely with yourself and others; identify and access your resources to make full use of your talents, skills and abilities; create a 'blueprint' for the road ahead by asking yourself a few simple questions; recycle mistakes, setbacks and failures into resourceful experiences; replace your destructive behaviours with constructive ones that will fulfil your original purpose; see things from new perspectives; and go from 'stuck' to choice in an instant."Mindworks" shows you all of the astonishing and wonderful ways to take full advantage of everything you have and are, to accomplish whatever you set out to do!Using the amazing effective tools of Neuro Linguistic Programming (NLP). "Mindworks" shows you how to unlock the resources, abilities and creativity that you already have in order to accomplish whatever you want to do and take control of your life.
Information
Format: Paperback
Pages: 288 pages, Illustrations
Publisher: Crown House Publishing
Publication Date: 01/05/2008
Category: Neuro Linguistic Programming (NLP)
ISBN: 9781845900861
Free Home Delivery
on all orders
Pick up orders
from local bookshops
Reviews
Showing 1 - 1 of 1 reviews.
Review by spbooks
16/06/2015
A good, basic introduction to NLP (neurolinguistic programming) presuppositions, tools and strategies. Applies the ideas practically and communicates them with good examples in lay terms. I'd recommend this book for those who have no knowledge of NLP.  Unfortunately, though, the book does not discuss the evidence-base of NLP which is often questionable. For example, NLP's belief that eye-movements can reflect internal representational system processing lacks significant research support. This lack of evidence base is a serious flaw for the critical thinker and one would want to explore deeper and broader literature on NLP. However, as far as self-help books go, this is better and more reasonable than many.
Also by Anne Linden