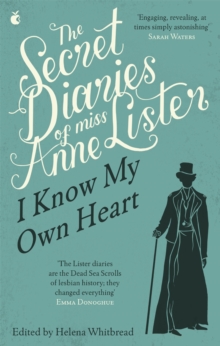 The Secret Diaries of Miss Anne Lister
Paperback
Description
These remarkable diaries are a piece of lost lesbian history.
Anne Lister defied the role of womanhood seen in the novels of Jane Austen: she was bold, fiercely independent, a landowner, industrialist, traveller - and lesbian.
She kept extensive diaries, written partly in code, of her life and loves.
The diaries have been edited by Helena Whitbread, who spent years decoding and transcribing them.'[Anne Lister's] sense of self, and self-awareness, is what makes her modern to us.
She was a woman exercising conscious choice. She controlled her cash and her body. At a time when women had to marry, or be looked after by a male relative, and when all their property on marriage passed to their husband, Anne Lister not only dodged the traps of being female, she set up a liaison with another woman that enhanced her own wealth and left both of them free to live as they wished . . . The diaries gave me courage' Jeanette Winterson'Engaging, revealing, at times simply astonishing: Anne Lister's diaries are an indispensable read for anyone interested in the history of gender, sexuality, and the intimate lives of women' Sarah Waters
Information
Format: Paperback
Pages: 448 pages
Publisher: Little, Brown Book Group
Publication Date: 29/10/2010
ISBN: 9781844087198
Free Home Delivery
on all orders
Pick up orders
from local bookshops
Reviews
Showing 1 - 3 of 3 reviews.
Review by CinnamonTea
16/06/2015
Despite its contents-which are sometimes too fully detailed with everyday life actions-this diary is incredible,it is incredible that finally someone has decided to decodify it for us! Anne Lister was a young lesbian living in a small English town in the second half of 1800. She opens her heart to the diary,writing down what she feels for women,how she flirts with them and never questions her sexual attitudes... I think this it is unique and incredible,to find and to be so close to such a modern woman in that age. a must read
Review by veracite
16/06/2015
The problem with the journals of real people is they just end. There is no narrative conclusion and without this sham resolution, I am very sad about her death, years in the future of this book. There was so much about her I liked and admired and so much - her classism mostly - that would have make me not want a bar of her. <br/><br/>Recommended to readers of Regency romances, readers of Austen, students of LGBT history, people who yearn for some gaying up in their Regency romances and you.
Review by AdonisGuilfoyle
27/08/2015
I was inspired to read this account of Anne Lister's life after a visit to Shibden Hall, her home in nearby Halifax, and she was certainly an unconventional, opinionated lady (or perhaps 'gentleman' is more appropriate) - but some serious verbal pruning was necessary! Her amazing journals cover over thirty years, between 1806 and 1840, and Helena Whitbread only includes excerpts from 1816 to 1824, but I got the drift early on and couldn't help feeling that a little more judicious editing or sampling would have made for a more interesting read, particularly with Anne's romantic angsting. Summarise the entries where Anne talks about love, travel, domestic concerns, family and friends, etc, instead of reporting verbatim - although, if I had decoded eight years of handwriting, not to mention Anne's 'crypt hand', I would probably want to include every last word, too!Anne Lister was born in Market Weighton in 1791, but would come to live at and eventually inherit Shibden Hall. Perhaps most famously, or infamously, Anne was known to 'love, and only love, the fairer sex and thus beloved by them in turn' - she had lesbian affairs with a few of her close 'friends', in particular Mrs Mariana Lawton, and devised a code based on algebra and Greek to write about her lovers in her journals (and in letters). This code was deciphered in the 1930s, but her diaries were only printed in full fifty years later. Sexual orientation aside, Anne Lister was a remarkable woman, and her personality shines through in her writing. Witty, proud and a little lonely, she actually brought to my mind Jane Austen's eponymous heroine <i>Emma</i> (and there have been whisperings about Emma's feelings for Harriet Smith!) She talks of 'vulgar' neighbours who she haughtily avoids associating with ('Of course I refused, tho as civilly as I could ...'), buying livery and mourning for the servants ('the cook being so big takes 9 and a quarter yards'), and comments on the dress and manner of other young women ('shockingly disfigured with out of curl ringlets'). Anne also buys a gun to defend herself and her property, firing out of her window and breaking the glass in the process, and stands her ground against strange men who pester her ('I should like to see you try'). She is at once of her time, bringing in the 'leech-woman' for treatment and 'making water' on the coach floor, and also shockingly modern, like a lesbian, land-owning Bridget Jones! A brilliant, intelligent character, talked about and cut from polite society for her 'masculine' dress and attitude, but loving and open and sympathetic to twenty-first century readers. I just wish there was rather less of the same type of journal entry to read about!