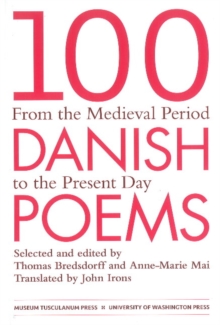 100 Danish Poems : From the Medieval Period to the Present Day
Hardback
Description
Text in English & Danish. Danish poetry is coloured by the distinctive tone of its language, shaped by the contours of the landscape, the rhythms of modern small-town life, and derives impressions from the luminous nights, the autumn storms, and the long dark winter months.
This anthology provides a representative selection of 100 Danish poems by sixty-four poets, ranging from the medieval balladeers to poets already of international standing as well as younger poets.
The edition is bilingual, allowing readers the possibility of reading the English and Danish texts side by side, and contains a lengthy introduction outlining the central developments in the history of Danish poetry, situating its most important oeuvres and themes within a larger international framework.
The majority of the poems have not previously been made available in English. Published in collaboration with the University of Washington Press.