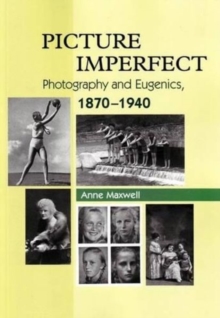 Picture Imperfect : Photography & Eugenics, 1870-1940
Paperback
Description
This book documents and critically analyses the photographs that helped to strengthen as well as bring down the eugenics movement.
Using a large body of racial-type images and a variety of historical and archival sources, and concentrating mainly on developments in Britain, the USA and Nazi Germany, this book explains how photography, as the most powerful visual medium of the late nineteenth and early twentieth centuries, was vital to the eugenics movement's success -- not only did it allow eugenicists to identify the people with superior and inferior hereditary traits, but it helped publicise and lend scientific authority to eugenicists' racial theories.
The author argues for a strong connection between the racial-type photographs that eugenicists created and the photographic images produced by nineteenth-century anthropologists and prison authorities, and how the photographic works of contemporary liberal anthropologists played a significant role in the eugenics movement's downfall. Besides adding to our knowledge of photography's crucial role in helping to authorise and implement some of the most controversial social policies of modem times, this book makes a major contribution to our understanding of the history of racism.
The book looks at eugenics from the standpoint of its most significant cultural data -- racial-type photography, investigating the techniques, media forms, and styles of photography used by eugenicists, and relating these to their racial theories and their social policies and goals.
It demonstrates how the visual archive was crucially constitutive of eugenic racial science because it helped make many of its concepts appear both intuitive as well as scientifically legitimate.
Information
Format: Paperback
Pages: 286 pages, b/w photos
Publisher: Sussex Academic Press
Publication Date: 11/03/2010
Category: Photography & photographs
ISBN: 9781845194154
Free Home Delivery
on all orders
Pick up orders
from local bookshops
Also by Anne Maxwell