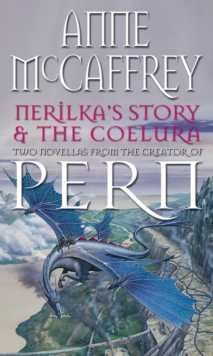 Nerilka's Story & The Coelura
Paperback
Description
Nerilka's StoryIt was in Moreta's time -- a time of legend, of heroic valor, of terrible Threadfall and the Great Plague that devastated both Holders and Dragonfolk.
For Lady Nerilka of Fort Hold, the tragedy was twofold, for with the death of her mother and her sister, her father's mistress took possession of the Hold.
Angry and betrayed, Nerilka decided to escape and, as Pern seethed in turmoil, she began her perilous journey to Ruatha, Lord Alessan and an unknown destiny. A gripping tale in Anne McCaffrey's world-famous Chronicles of Pern. The CoeluraWhen the Lady Caissa was told by her exalted sire to enter into an heir-contract with Cavernus Gustin she was appalled.
For although Gustin was genetically sound he was vain, pompous and intellectually inept.
But Caissa's father was determined there should be a union -- he had his own privately plotted plans for such a match. And a few hours later Caissa began to suspect what they were.
On a private flight over the forbidden areas of the North, she was alerted by a distress signal -- and there discovered a stranger who said his name was Murell -- a man surrounded by coelura, the incredible rainbow creatures whose very brilliance threatened their extinction.
It was the coelura her father wanted. And Murell was determined to save them.
Information
Format: Paperback
Pages: 256 pages
Publisher: Transworld Publishers Ltd
Publication Date: 01/10/1987
Category: Fantasy
ISBN: 9780552128179
Free Home Delivery
on all orders
Pick up orders
from local bookshops
Reviews
Showing 1 - 2 of 2 reviews.
Review by humouress
16/06/2015
[Nerilka's Story]This is a parallel story to [Moreta : Dragonlady of Pern]; I read these two consecutively, and I think I benefitted from doing so. In 'Moreta', the people of the planet have to deal with a pandemic outbreak of a mysterious disease, against which they have no immunity - the disease having been eradicated before migration to the northern continent. Essentially, 'Nerilka's Story' is part of the story from 'Moreta' told from the point of view (unusually, in the first person) of a character who is only mentioned a few times in the larger book. Though dragons themselves barely feature, the story-telling is as rich as in other books about the dragons of Pern. It covers events that happen in two other (strategic) locations - Fort and Ruatha Holds - in the same time frame, and finishes the stories of those at Ruatha, which 'Moreta' left open.The series in general is well written (especially, I think, the first eight or ten books), with a fairly unique premise of telepathic dragons. It doesn't hurt, either, that there are so many strong female characters - especially with the first story being written as far back as 1967.I'll give this 3 and a half stars <b>***</b>*[The Coelura]Lady Caissa is the body-heir to Baythan, the Minister Plenipotential to Demeathorn, whose secret mission may be about to be accomplished. As she investigates the mystery, Caissa is drawn into adventure. I like the story, which is sic-fi rather than fantasy, but at just over 50 pages, it's a bit rushed. For a story-line based on emotions, there isn't enough time for emotions to develop, so I didn't find it completely credible - especially when the main character suddenly experienced intense emotions, because there was no build-up or reason for the intensity. This novella seems to be in the same series as Nimisha's Ship, which I haven't read; maybe reading both together would fill in some gaps.I'll give this 2 and a half stars <b>**</b>*
Review by alsocass
16/06/2015
Nerilka is one of my all-time favourite characters in the world of Pern. Unlike Moreta (a character who is much more famous and has a much bigger book written about her) it is Nerilka who triumphes the most. She shows amazing courage and determination leaving her home and setting out to do what she can to help.<br/><br/>She is not pretty, has no friends and essentially no family. She encounters ridicule and scorn from those who know who she is and question her motives.
Also in the The Dragon Books series | View all