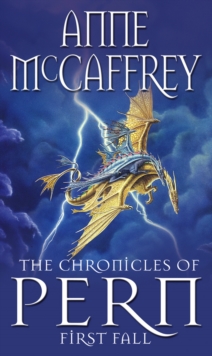 The Chronicles Of Pern: First Fall
Paperback
Description
Here are five gripping episodes of early Pern -- from the very first space survey recommending colonisation, to the last, where the early world, its young dragon culture undetected, is condemned to be isolated in space.
Here is the saga of the mass evacuation from the volcanic southern continent, an entire group of people moved across the dangerous seas, guarded and guided by a flotilla of dolphins.
Here, too, is the story of the creation of Ruatha Hold -- a mammoth undertaking in the early days of Pern. And here is one of the most fascinating dragon tales ever written by Anne McCaffrey, when Fort Weyr was the only weyr, and when dragonriders and dragons were overcrowded to danger point.
As the news broke of three fresh weyrs to be established, a young girl, Torene, came to realize that her dragon could be the next Queen of the newly formed Benden Weyr.
Information
Format: Paperback
Pages: 288 pages
Publisher: Transworld Publishers Ltd
Publication Date: 10/11/1994
Category: Science fiction
ISBN: 9780552139137
Free Home Delivery
on all orders
Pick up orders
from local bookshops
Reviews
Showing 1 - 3 of 3 reviews.
Review by eleanorigby
16/06/2015
Interesting world, good writing.
Review by cedargrove
16/06/2015
Dolphins, Dragons, Holds and backstory...From a writer's perspective, one needs to understand where one's characters, and the history of the world in which they live, are coming from, and knowing how long it can take to create or visualise this backstory when the world is new and alien, and its people as unusual as the world itself, I understand that this is an investment of a great many hours. So, perhaps a writer can be forgiven for wanting to share these snippets of backstory with a loyal readership, no?That is as may be and all to the good, but please do so in a way that is as engaging and affirming as the novels themselves. Show the reader what is happening, do not just tidy up the notes you made as backstory and publish them, telling us, lecture style, what happened when the volcanos errupted, or the old holds filled to overflowing meaning that new must be established.If I were not as involved in the life stories of the dragons of this world, then First Fall might well have killed the series of books for me... but because I am, I ploughed through, filling in the gaps in description and engagement with my own experience of Pern; with what I know, and feel and believe. The one good thing to come out of reading this, I'm now more interested in reading of the Dolphins of Pern - which just happens to be the next book in this series.
Review by shanaqui
16/06/2015
It was interesting to read stories from earlier Pern, but I didn't like many of the characters.
Also in the The Dragon Books series | View all