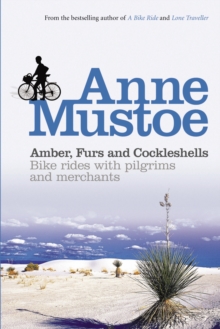 Amber, Furs and Cockleshells : Bike Rides with Pilgrims and Merchants
Paperback
Description
Myriad wonderful characters populate the pages of Anne Mustoe's fascinating book as she pedals along three very different, but equally evocative, roads - the Amber Route from the Baltic to the Adriatic, the Santa Fe Trail from the Missouri River to New Mexico and the Pilgrims' Way of St James from Le Puy to Santiago de Compostela.
Battling against ferocious winds in Jutland, blizzards in the Rockies, traffic jams of cyclists along the Danube and menus in Czech, Hungarian and Basque, Mustoe survives with her usual fortitude and wry humour, even when she is knocked off her bike by a short-sighted nonagenarian in a Fiat Panda.
Information
Format: Paperback
Pages: 240 pages
Publisher: Ebury Publishing
Publication Date: 10/03/2005
Category: Cycling
ISBN: 9780753509838
Free Home Delivery
on all orders
Pick up orders
from local bookshops
Reviews
Showing 1 - 3 of 3 reviews.
Review by Seajack
16/06/2015
Three trips in one umbrella book: Central Europe, USA and France/Spain. Cycling enthusiasts might be disappointed with the lack of technical details, but it's a good read. I'm looking forward to Mustoe's new adventures in South America due out soon.
Review by janglen
16/06/2015
This covers three cycle rides - the Amber Route from the Baltic to the Adriatic, the Santa Fe Trail and the Pilgrim route from Le Puy to Santiago de Compostela. The book is readable and sufficiently informative, but is less satisfactory that the two other titles by Anne Mustoe that I have read. Somehow it lacks spark and enthusiasm, and seems much more pedestrian. I would certainly re-read it if I was about to embark on any of these journeys though.
Review by kukulaj
16/06/2015
The three tales here, the Amber Trail, the Santa Fe Trail, and the Pilgrimage Trail, are told in a delightfully balanced way. Mustoe knows plenty of history so there is a lot to learn here about these places. Mustoe also meets many people along the way, fellow travelers and the local people. Some she likes, some she doesn't. And then we get the stories of the hot and the cold, the climbs and the descents, the wet and the dry, the crowded and the remote.There is almost no technical detail here. Mustoe hardly mentions what she carries on her bike, and even less the bags in which she carries it. The word "derailleur" occurs just once, if I counted right. Mustoe tells us that she has no interest in sport. She doesn't train before a tour. She is out to explore the world. She does share quite a bit of detail on mileage and hours of riding. She rides slowly - so do I!Mustoe is a credit card tourer. There is no camping here. Probably she has a tent but just for emergencies. But she is on a budget, too, so these are not luxury tours. These feel like practical adventures, well within the reach of average folks... at least if you can retire healthy!It's not really a meditative book. The action is not really internal. What binds the narrative thread is really the history. On that thread is then strung a series of personal experiences and observations. It's a well written book, a pleasure to read. It definitely motivates a person to get out and explore!