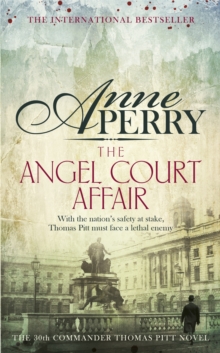 The Angel Court Affair (Thomas Pitt Mystery, Book 30)
Paperback
Description
When Commander Thomas Pitt is ordered to protect a young woman visiting London from Spain, he cannot see why this is a job for Special Branch.
When she disappears in the dead of night from Angel Court, however, he is faced with a dangerous mystery.
Sofia preached new, and some say blasphemous, religious ideals, and her life had been threatened.
But Pitt senses there is some deeper and more dangerous reason for her kidnap - if that is what it is. Three men are caught up in the hunt for Sofia - her cousin, a banker for the Church of England, a popular and charismatic politician, and a journalist who seems determined to goad Pitt to the truth.
Each seems to be hiding something, and as the search for answers stretches from London to Spain, Pitt knows that time is running out, and the nation's security could be at stake...Angel Court is the thirtieth superb mystery featuring Thomas and Charlotte Pitt from the master of Victorian crime.
Information
Format: Paperback
Pages: 320 pages
Publisher: Headline Publishing Group
Publication Date: 23/04/2015
Category: Historical mysteries
ISBN: 9781472219442
Free Home Delivery
on all orders
Pick up orders
from local bookshops
Reviews
Showing 1 - 4 of 4 reviews.
Review by SJWolfe
27/08/2015
This addition to the Pitt series is for die-hard Pitt fans only. The premise was sketchy and hard to understand; the characters were shallow and there was very little of the exquisite Victorian Age detail that usually characterizes Perry's novels. The series was much better when Pitt was only a police officer--his move to special branches has turned this series into a cumbersome, pseudo spy novel, which, unless you have an extensive knowledge of British history, falls flat. The book seemed to be more of an outline for a novel rather than a well-thought out and finished novel. I don't like to knock a book so hard but this one was just not even close to what readers have come to expect from Perry
Review by Mrsbaty
27/08/2015
I think I may have read an early book in this series but I'm not quite sure. I think if I did, it must have been better than this one. I'm sure fans of the series will think that starting with number 30 isn't really fair to the series and maybe it isn't but I just have to say, this one was boring. My summary: An ex-pat English woman comes back from Spain preaching her own form of Christianity. This makes some people very unhappy. There's a lot of talking. She and her acolytes disappear. There's a lot of talking. Acolytes found murdered, ex-pat woman kidnapped. Then there's a lot of talking and then there's more talking and they all just keep talking until the end of the book. Obviously, Anne Perry is a very skilled writer but this was tedious to listen to. It won't stop me from reading others in the series because hopefully this was an aberration.I won this book on librarything and I appreciated the opportunity to give my honest opinion.
Review by Pmaurer
27/08/2015
This is another of the adventures of Thomas and Charlotte Pitt, set in a well researched Victorian England environment. It dealt with the disappearance of a visitor / famous speaker from Spain, Sophia Delacruz. I would like to have had Charlotte take a greater part in solving this mystery, but the story line still kept me going, although it took far longer than I would have liked.
Review by enemyanniemae
27/08/2015
I haven't read Anne Perry for a long time. I got up to book 3 or 4 in the Pitt series and then got distracted. When I found this audiobook being offered for advance reading by librarything, I threw my hat in the ring. I had forgotten how much I liked these people. Things have definitely changed in the Pitt household, but it was truly like visiting old friends. Perry's writing is rich and evocative. She instantly and thoroughly transports the reader back to 19th century London. Her characters are wonderfully fleshed out and shaded. The mystery was finely woven and quite intriguing. But nothing in audiobooks is as important as the narrator. An audiobook is as good (or as bad in some cases- The Kite Runner, I'm looking at you!) as its narrator. I was delighted when I learned who would be reading. Davina Porter is the best of the best. She gives each and every character his own distinct voice. She can do subtle changes in pitch and timbre that leave no doubt which character is speaking at any particular moment. This lady could narrate the telephone directory and I would listen with rapt attention. She really is THAT good. I really want to go back and find all of the Pitt books that Porter has narrated. Listening to her read a good book is one of the finer things in life. Definitely recommended!