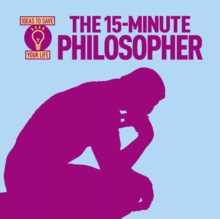 The 15-Minute Philosopher : Ideas to Save Your Life
Paperback
Description
The 15-Minute Philosopher introduces the reader to the main ideas of philosophy, showing how the subject has a clear practical purpose vital to our day-to-day lives and thinking.
The subjects discussed here have been chosen to show that philosophy is by no means arid and academic but rather that it s useful, fun and necessary in getting to grips with the issues thrown up by daily life.
In Q&A format, this book explains the philosophical arguments around such questions as Should I eat meat?; Does God exist?; Is capital punishment wrong; If a distant tree falls over in a forest, does it make a noise?; Does a dog have a soul?; Do humans have freewill and many more "
Information
Format: Paperback
Pages: 304 pages
Publisher: Arcturus Publishing Ltd
Publication Date: 15/08/2014
Category: Popular philosophy
ISBN: 9781782126423
Free Home Delivery
on all orders
Pick up orders
from local bookshops