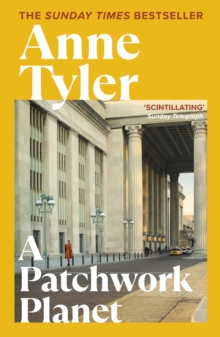 A Patchwork Planet
Paperback
Description
Barnaby Gaitlin has less in life than he once had. His ex-wife Natalie left him and their native Baltimore several years ago, taking their baby daughter Opal with her.
He acquired an unalterably fixed position as the black sheep of the family. And this family isn't one where black sheep are tolerated.
The Gaitlins are rich and worthy, supposedly guided by their own special angel to do the right thing... OVER A MILLION ANNE TYLER BOOKS SOLD`She's changed my perception on life' Anna Chancellor `One of my favourite authors ' Liane Moriarty`She spins gold' Elizabeth Buchan `Anne Tyler has no peer' Anita Shreve`My favourite writer, and the best line-and-length novelist in the world' Nick Hornby `A masterly author' Sebastian Faulks `Tyler is not merely good, she is wickedly good' John Updike`I love Anne Tyler' Anita Brookner `Her fiction has strength of vision, originality, freshness, unconquerable humour' Eudora Welty
Information
Format: Paperback
Pages: 352 pages
Publisher: Vintage Publishing
Publication Date: 01/02/1999
ISBN: 9780099272687
Free Home Delivery
on all orders
Pick up orders
from local bookshops
Reviews
Showing 1 - 5 of 5 reviews.
Review by zappa
16/06/2015
Hauntingly beautiful - but then Tyler does that so well. I want to journey on with the narration: should Barnaby end up with Sophia-the-crooked-but-straight-but bent or Marline the crooked-but-straight? And is the only angel the one that saves him from his own desires? A book that will stay with me a long time.
Review by Black_samvara
16/06/2015
Barnaby Gaitlin is divorced, an ex-delinquent, the black sheep of his neurotic family and the owner of a fabulous car he doesn't appreciate. He works for Rent-a-Back doing odd jobs for elderly clients and his wry narration and baffled response to the world around him is very enjoyable. I also appreciated his complete inability to not stuff things up, the man has an auto-destruct response to things going well and the scene where he almost gooses his brother's wife had me reading in horrified anticipation.
Review by marialondon
16/06/2015
What is it about Barnaby Gaitlin? He's almost 30 (oh, that dreaded birthday!), lives in a run-down basement, is divorced, with a young daughter who he seldom sees, works at a menial job & generally struggles to survive. This at least is the description of Barnaby's life, if you look at it from a detached, criticizing point of view. He's the ultimate "loser" in a society that measures people through their wealth, beauty, image. Barnaby comes from a rich family, but is a former juvenile delinquent. He's not particulary handsome & he couldn't care less about his image. Still, in a world that would measure people in different ways, he would be considered a wonderful man: through his work he helps those most in need (elderly clients in the company "Rent-a-back") & is a kind, thoughtful, gentle man, but hopelessly insecure & maybe misdirected.Along comes Sophia, a school-marmish sort of woman, who, as is mentioned in the book, "each night scrubs her face, brushes her teeth & climbs- alone- into her four-poster-bed". Barnaby thinks Sophia is his guardian-angel (a tradition in his family) & forms a relationship with her, striving to be as good as she is. What he doesn't realise, until the end, is that Sophia's goodness is only skin-deep, while his own character & potential is more truthful & honest by far.What stays with me after closing the book is first, the whole theme of goodness & the ability to give to others, which is explored beautifully, & second, Anne Tyler's thoughts about old-age & elderly people...very chilling, very true. Those chapters broke my heart but I thought they were true to life.
Review by isabelx
16/06/2015
Then a hand arrived on my arm, so light it took a moment to register, and I turned and found Sophia smiling into my eyes. It was the most serene and radiant smile, the most seraphic smile. "Goodbye, Barnaby," she said, and she dropped her hand and walked away.I never did explain her presence to Natalie. I honestly don't know what I would have said.The story of Barnaby Gaitlin, the black sheep son of a rich Baltimore family, who works for a company called Rent-a-back, which does the jobs that its elderly clients can't manage for themselves, no matter how small. I loved the descriptions of Barnaby's clients, such as "Over her forearm she carried a Yorkshire terrier, neatly folded like a waiter's napkin", and "Dirt was her personal enemy. Let her catch sigh of a cobweb and she would not rest until she had killed it dead", and I think that every city could do with having a Rent-a-back.
Review by whirled
16/06/2015
I must say I felt Anne Tyler stretched the credibility of her protagonist a tad too far this time around. Barnaby Gaitlin's past as a petty criminal who breaks into people's houses in order to look through their old photo albums was more silly than quirky. Aside from that, he was a typical Tyler hero, flawed but likable, trying to find his place within his family and the world at large. And, the disastrous family dinner towards the end is another of her masterful set pieces. I've read quite a few of her novels now and I think it's fair to say Tyler's stories are somewhat formulaic, which is, oddly, part of their appeal. Reading Anne Tyler is as comforting as hot chocolate on a wintry day - guaranteed to brighten your mood.