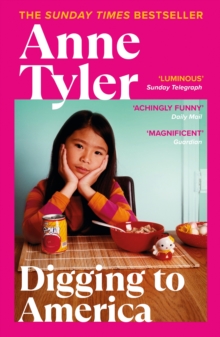 Digging to America
Paperback
Description
Friday August 15th, 1997. Two tiny Korean babies are delivered to Baltimore to two families who have no more in common than this.
Every year, on the anniversary of 'Arrival Day' their two extended families celebrate together, with more and more elaborately competitive parties, as little Susan and Jin-ho take roots and become American.
Full of achingly hilarious moments and toe-curling misunderstandings, Digging to America is a novel about belonging and otherness, pride and prejudice, young love and unexpected old love, families and the impossibility of ever getting it right...
Information
Format: Paperback
Pages: 336 pages
Publisher: Vintage Publishing
Publication Date: 19/04/2007
ISBN: 9780099499398
Other Formats
CD-Audio from £13.25
EPUB from £4.99
eAudiobook MP3 from £8.00
Free Home Delivery
on all orders
Pick up orders
from local bookshops
Reviews
Showing 1 - 5 of 11 reviews.
Previous | Next
Review by bobbieharv
16/06/2015
One of her best later books, though more serious and not as funny as her very early ones. About two couples, one Iranian and one American, who each adopt Korean babies and the cultural assimilation process. Astute observations of Americanism.
Review by LadyN
16/06/2015
Two culturally differing couples adopt babies from Korea, and forge a friendship based only on this common ground.I very much enjoyed this book, although it didn't quite take me in the direction I expected to go. Despite the very different attitudes to raising their adopted children, I felt that the two families still inhabited a very insular world, with little or no influence any source other than their own families. That said, I don't think the characters could have developed in the way they did had it not been for that seeming isolation from external influence forcing them to forge relationships only with each other.Tyler has created some beautifully drawn characters - the older generation particularly, and I would recommend Digging to America as a quick, fun read.
Review by Daisydaisydaisy
16/06/2015
An enjoyable read. I liked the insights into immigrant life and cultural differences.
Review by tronella
16/06/2015
This is another one from the Orange Prize box. It's about two American families who both adopt Korean girls, and meet because the babies arrive at the same airport on the same day. One is some kind of middle-class white American family, who keep the girl's Korean name and dress her up in traditional Korean clothing on her birthday and so on, and the other is a second-generation Iranian family who rename their baby Susan and teach her Farsi. I thought it was pretty interesting, although a little cringy in places, especially reading about Bitsy being all "look how non-racist I am! I totally have Iranian friends! And my Korean daughter is friends with an African-American kid! :D?" I enjoyed this one - easy to read, and the characters seemed very true-to-life.
Review by phoebesmum
16/06/2015
A story of two quite different couples who happen both to adopt Korean orphans at the same time; it's about family, and friendship, and food, and love, and loss, and cultural identity, and, for that matter, it's about pride and about prejudice – but mostly it's about people, and it's beautiful.