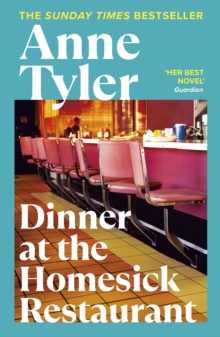 Dinner at the Homesick Restaurant
Paperback
Description
Through every family run memories which bind it together - despite everything.
The Tulls of Baltimore are no exception. Abandoned by her salesman husband, Pearl is left to bring up her three children alone - Cody, a flawed devil, Ezra, a flawed saint, and Jenny, errant and passionate.
Now, as Pearl lies dying, stiffly encased in her pride and solitude, the past is unlocked and with it its secrets. OVER A MILLION ANNE TYLER BOOKS SOLD`She's changed my perception on life' Anna Chancellor `One of my favourite authors ' Liane Moriarty`She spins gold' Elizabeth Buchan `Anne Tyler has no peer' Anita Shreve`My favourite writer, and the best line-and-length novelist in the world' Nick Hornby `A masterly author' Sebastian Faulks `Tyler is not merely good, she is wickedly good' John Updike`I love Anne Tyler' Anita Brookner `Her fiction has strength of vision, originality, freshness, unconquerable humour' Eudora Welty
Information
Format: Paperback
Pages: 384 pages
Publisher: Vintage Publishing
Publication Date: 01/09/1992
ISBN: 9780099916406
Other Formats
Paperback from £7.65
EPUB from £4.99
eAudiobook MP3 from £9.60
Free Home Delivery
on all orders
Pick up orders
from local bookshops
Reviews
Showing 1 - 5 of 5 reviews.
Review by heathernkemp
16/06/2015
Rating: A+If you have not ever read this book, stop reading this review right now, go pick it up, and don't do anything else until you're done. If you're still reading this then you're either disobedient or you know how truly fabulous this novel is. Anne Tyler is an absolutely genius writer. She takes a series of events that are seemingly nothing--seriously, nothing of "consequence" really happens in this book--but you're captivated from the first chapter.As I was reading I found myself feeling sympathy for which ever perspective was being used--she writes from Pearl, Cody, Ezra, and Jenny at different points throughout the book. When you're reading Cody you feel so badly for Cody, and (paradoxically) when you read Ezra your heart breaks for him. And it seems hard to imagine, having read any of the children's chapters, but you actually feel that Pearl (and her husband) as well are characters were rich and deep back-stories that are so complex.At the end of the book I found myself deeply saddened, to the point of near tears (if I hadn't been at dinner with my family in Fazoli's I'd probably have let the tears spill). I just felt that these characters were all so tragic, their lives so sad, and then I realized what Tyler's teaching--everyone is tragic. No one has the perfect life. Family is very nearly all anybody has, and it makes you re-think what you think of your family and closest friends.This book was easily, so easily, an A+ in my book. If I weren't a stickler for the grading system, I'd have given it an A++. It's really that good.
Review by curlycurrie
16/06/2015
I found this a bit slow to start with but persevered beause I had read so many good reviews about it. I'm glad I did because as I got further into the book things started to come together and the jigsaw fell into place. Very thought provoking and although nothing in particular happens Anne Tyker domonstrates how the events and actions of parents have an effect on their children and subsequently their grandchildren.This was the first Anne Tyler book I've read and now I'm looking out for more.
Review by whirled
16/06/2015
Dinner At The Homesick Restaurant is a funny, sad and entertaining reflection on the conflicting emotions at the heart of family life. As reluctant single mother Pearl Tull lies on her deathbed, she and her three children ruminate on their shared past, imparting wildly different versions of events. Tyler lends a depth to her characters and their thinking that makes them solid and authentic, despite their various flaws. In Tyler's fictional world, characters don't have to be lovable to be interesting. The book is a timeless study of the nature of family, love and regret.
Review by jeffome
16/06/2015
I enjoyed this book....a little slow in the beginning, but it rallied....Tyler certainly has a knack for creating very odd, but for some reason, somewhat believable characters that suck you in....the characters are somewhat tragic, but that old 'humanity thing' kicks in and it is totally appropriate to relate, no matter how removed we may be in our lives.....although, we're probably not as removed as we may think!!!! My 4th Tyler, and i have more on the shelf.....but i likely will not read them back to back....there is a basic pattern of sorts that i can now see, and some space between will make them more enjoyable, i hope.
Review by roblong
16/06/2015
Family drama that borrows the springboard and to an extent the structure from Faulkner's As I Lay Dying - the mother of the family lies on her deathbed, prompting the telling of the family story from the point of view of each of the family members. Very well written and observed, it feels very real. This could be a family you knew and did not consider particularly remarkable, but would be intrigued once you got under their skin. They see the same events differently, come closer and drift apart in very ordinary and human ways. Not the most exciting, but it aims for something different. I'd read more by her.