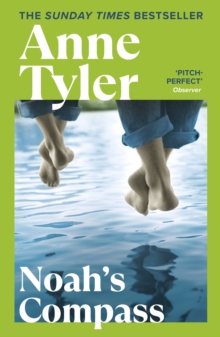 Description
Liam Pennywell has spent most of his life dodging issues and skirting adventure when suddenly, in his sixty-first year, something happens that jolts him out of his certainty and leaves him with a frightening gap in his memory.
In trying to piece together what took place on his first night in a new apartment, Liam finds instead an unusual woman with secrets of her own, and a late-flowering love that brings its own set of thorny problems. "She's changed my perception on life." (Anna Chancellor). "One of my favourite authors." (Liane Moriarty). "She spins gold." (Elizabeth Buchan). "Anne Tyler has no peer." (Anita Shreve) "My favourite writer, and the best line-and-length novelist in the world." (Nick Hornby). "A masterly author." (Sebastian Faulks). "Tyler is not merely good, she is wickedly good." (John Updike). "I love Anne Tyler." (Anita Brookner). "Her fiction has strength of vision, originality, freshness, unconquerable humour." (Eudora Welty).
Information
Format: Paperback
Pages: 288 pages
Publisher: Vintage Publishing
Publication Date: 19/08/2010
ISBN: 9780099539582
Other Formats
EPUB from £4.99
eAudiobook MP3 from £8.00
Free Home Delivery
on all orders
Pick up orders
from local bookshops
Reviews
Showing 1 - 4 of 4 reviews.
Review by elkiedee
16/06/2015
Liam Pennywell has been made redundant from his teaching job at the age of 60. He needs to economise so he moves to a smaller apartment further out of town. He wonders if losing his job is a sign that it's time to move on to "the final stage, the summing-up stage". This is the opening of Anne Tyler's 18th novel. Like all her others, it is set in Baltimore. Although Liam has lived alone for some years following the end of his second marriage, this novel is about his past and present relationships with other people, his family and others. This is familiar territory for those like me who have read a lot of Anne Tyler's other work.As in her other novels, the story of Noah's Compass is gradually built up, it is a quiet, reflective novel about thoughts and feelings rather than a fast paced action-packed novel. Liam deals with what is happening to him by trying to focus on the positive side of it – paring down his possessions to prepare for the move is a chance to simplify his life. Liam is proud of his memory but just after the move he wakes up in a hospital bed with no recollection of the knock on the head which caused him to be there. This does worry him and he sets out to find out. The loss of his job, the move and the gap in his memory force him to realise he is lonely, and he begins, very hesitantly, to re-establish relationships with his daughters, two adults and a 17 year old. His conversations with his family are often quite amusing and rather sad at the same time, as it becomes very clear that it is not just being hit on the head that is his problem, perhaps there is rather a lot he doesn't know.He is attracted to a younger woman because she seems to be someone who could help look after him, and a friendship, then a relationship slowly develops. But is there more to dowdy but caring Eunice than meets the eye? The Eunice storyline is important, but I didn't like it that much, I had been drawn into the book enough to care about Liam and to think that there was something not quite right, that the romance didn't convince me. I was much more interested in reading about Liam re-establishing relationships with his three daughters, particularly teenage Kitty who comes to stay with him after lots of fights with her mum.I found this story of Liam's first year of this new life a curiously absorbing read, and would recommend it to those who like this kind of quietly reflective, thoughtful fiction.
Review by adrianburke
16/06/2015
I enjoyed it though the part concerning Liam's first wife does not quite work and I got a bit confused over all his relationships. I am not sure about the ending which came suddenly - can Tyler not do longer books, because I think some of it was not quite worked through. The dialogue is good as in the way that US sitcom characters always say clever things even when they are not clever. I am reading 'Digging to America' now.
Review by phoebesmum
16/06/2015
I don't believe that Anne Tyler is capable of writing a bad book, but some I like more than others and, unfortunately, this isn't one of those. It's the story of a man with very little to live for: a middle-aged out-of-work schoolmaster with two failed marriages behind him, three children who don't like him very much, and almost no friends. When he's attacked in his own apartment, there's nobody to bring him home from hospital but his ex-wife, who does so only out of duty. He strikes up a relationship with a younger woman whose own life is almost as empty as his, but she's wary and secretive with, as it turns out, good reason. He ends up reconciling with his family to some degree, and finding himself a job of sorts, and seems perfectly happy with his lot – in fact, he never seems particularly discontented; he appears to have very low expectations – but I found the whole thing quite depressing. Oddly, the Daily Telegraph review quoted on the back cover refers to the book as a 'comedy', and the strapline on the cover is "You might just find more than you lose …" Possibly I missed something. (Also, I fail to see what the cover image has to do with anything.)This struck a chord though, although not a very harmonious one: "I'm always thinking, Why don't I have any hobbies? Other people do. Other people develop their passions; they collect things, or they birdwatch, or they snorkel. They join book groups, or they re-enact the Civil War. I'm just trying to make it through to bedtime every night."
Review by jerryhall
16/06/2015
Excellent read. Good narrative and great story. Like the minimal style.