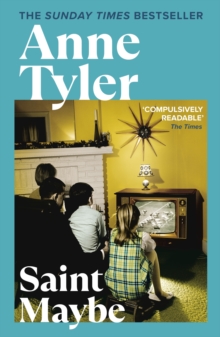 Description
When eighteen-year-old Ian Bedloe pricks the bubble of his family's optimistic self-deception, his brother Danny drives into a wall, his sister-in-law falls apart, and his parents age before his eyes.
Consumed by guilt Ian finds the hope of forgiveness at the Church of the Second Chance, and leaves college to cope with the three children he has inherited and his own embarrassing religion.
Twenty years on, Ian's prospects of a second chance are receding fast when, out of the heart of the domesticity that has engulfed him, strides a new figure who will bring him new life.
Information
Format: Paperback
Pages: 352 pages
Publisher: Vintage Publishing
Publication Date: 03/11/1992
ISBN: 9780099914709
Other Formats
eAudiobook MP3 from £8.80
Free Home Delivery
on all orders
Pick up orders
from local bookshops
Reviews
Showing 1 - 5 of 5 reviews.
Review by Black_samvara
16/06/2015
Strangely compelling; Ian makes a poorly timed comment on the faithfulness of his older brother's wife and manages to jynx the next 20 years of his life. He tries to expiate his guilt by dropping school, adopting a new religion and taking on his brother's three orphaned children, none of whom he believes are really related to him.
Review by CatieN
16/06/2015
It is 1960's America, and the Bedloes are the all-American family living in Baltimore with three kids: Claudia, Danny, and Ian. Ian is 17, a popular senior in high school with a pretty girlfriend, raging hormones, a bit of an attitude, and a touch of laziness thrown in for good measure. One night, Ian lets his temper and poor judgment act on his behalf and believes he is the cause of the tragedy that ensues. Wonderful book about the repercussions there are from words that are spoken carelessly, never to be taken back, and also forgiveness, especially of yourself. Beautifully written with characters, all of them, that the reader truly cares about. Was sad to see it end.
Review by co_coyote
16/06/2015
I read this years ago, and pretty much forgot it, remarkably enough. I picked it off my self to take with me on a backpacking trip over the July 4th weekend. The weather report indicated I might well be spending more time in my tent than I wanted to. Believe me, there is nothing better than an Anne Tyler novel to take your mind off inclement weather and the cold, hard ground. A total delight, as always.
Review by whirled
16/06/2015
All of us have done it - tossed a particularly cruel barb at somebody we profess to love in a moment of frustration and anger - yet few have paid as dearly for such fleeting indiscretions as Ian Bedloe. The aftermath of that moment has a profound effect on Ian, prompting him to swap college life for surrogate parenthood and a rather cult-like brand of religion. Once again, Anne Tyler skillfully intertwines humour and pathos to bring this unpredictable tale of regret and forgiveness to life.
Review by nocto
16/06/2015
I don't want to say much about the plot here as I read it without having a clue and not knowing where it was going was good. Roughly, it's 25ish years in the life of a Baltimore family. It's ten perfect chapters - each could stand alone as a short story but they build up to a fantastic whole novel. Bite them off one at a time and savour them.