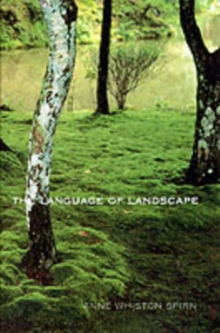 The Language of Landscape
Paperback
Description
This eloquent and powerful book combines poetry and pragmatism to teach the language of landscape.
Anne Whiston Spirn, author of the award-winning The Granite Garden: Urban Nature and Human Design, argues that the language of landscape exists with its own syntax, grammar, and metaphors, and that we imperil ourselves by failing to learn to read and speak this language.
To understand the meanings of landscape, our habitat, is to see the world differently and to enable ourselves to avoid profound aesthetic and environmental mistakes. Offering examples that range across thousands of years and five continents, Spirn examines urban, rural, and natural landscapes.
She discusses the thought of renowned landscape authors-Thomas Jefferson, Frank Lloyd Wright, Frederick Law Olmsted, Lawrence Halprin-and of less well known pioneers, including Australian architect Glenn Murcutt and Danish landscape artist C.
Th. Sorensen. She discusses instances of great landscape designers using landscape fluently, masterfully, and sometimes cynically. And, in a probing analysis of the many meanings of landscape, Spirn shows how one person's ideal landscape may be another's nightmare, how Utopian landscapes can be dark.
There is danger when we lose the connection between a place and our understanding of it, Spirn warns, and she calls for change in the way we shape our environment, based on the notions of nature as a set of ideas and landscape as the expression of action and ideas in place.
Information
Format: Paperback
Pages: 336 pages, 84 b-w illus.
Publisher: Yale University Press
Publication Date: 11/05/2000
Category: Landscape art & architecture
ISBN: 9780300082944
Free Home Delivery
on all orders
Pick up orders
from local bookshops
Reviews
Showing 1 - 2 of 2 reviews.
Review by ibbetson
16/06/2015
Anne Whiston Spirn has a lot of truly important and enlightening things to say in "The Language of Landscape". Unfortunately, she makes the reader slog through an indulgent and contrived writing style in order to understand her. At the end of the chapter, "Language of Landscape", she explained how a person fluent in its elements could "read" a landscape, and how this is crucial to understanding the world. Yet she never fully articulates this in the following chapter, "Elements of Landscape and Language", with anything more than impressionistic vignettes of places she has visited. It was not at all what I was expecting, and left me frustrated and wondering what point she was trying (and failing) to make. There are flashes of clarity, specifically when writing about specific case studies and experiences with students. In these passages, the writing is more direct and very readable. The second half of the book was excellent, especially the study of landscape and memory in Berlin. These passages are what "saved" the book for me and kept me reading.For contrast, I think that JB Jackson does a better job of weaving his theory with his stories and experiences. Beginners to landscape studies may find him more accessable. Spirn's points are there for those who want to dig for them, but sometimes it's unclear if it's worth it.
Review by amelish
16/06/2015
An important book, if not necessarily a wholly engrossing one... the hippie-dippy tone gets repetetive and I wish the writing were less consistently vague.
Also by Anne Whiston Spirn