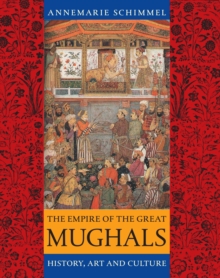 The Empire of the Great Mughals
Paperback / softback
Description
This title is translated by Corinne Attwood. The Mughal empire (1526 1857) has long been viewed as a wonderland of unimaginable treasure; it was in fact the mightiest Islamic empire in the history of India.
In this comprehensive cultural history, now available in paperback, Annemarie Schimmel describes the political, military and economic rise of the Mughals, their system of rule, the incredible unfolding of their power and splendour, and their gradual collapse, finally supplanted by the British colonial empire in 1857.
Beginning with a concise historical overview, she paints a detailed picture of life at court: of rank and status in this strictly hierarchical society; of the life of women; of the various religions, languages and literatures of the Mughal era; of the patronage of the arts by the rulers; and the remarkable accomplishments and techniques of artists at the Mughal court.
Who, for example, has not heard of the Taj Mahal, the renowned mausoleum that the emperor Shah Jahan constructed for his wife in the Indian city of Agra?This amazing edifice of white marble, inlaid with a filigree of precious stones, is an impressive demonstration of the refined sense of beauty of the Mughal rulers.
Building and landscape architecture, painting and literature, indeed, the entire court culture of the Mughals, all testify to an aesthetic sensibility within which they strove to harmonise all aspects of life. "The Empire of the Great Mughals" is a richly illustrated and fascinating portrait of an advanced civilization, the historical and cultural legacy of which still inspires universal admiration today.
Information
Format: Paperback / softback
Pages: 352 pages
Publisher: Reaktion Books
Publication Date: 01/07/2006
Category: Asian history
ISBN: 9781861892515
Free Home Delivery
on all orders
Pick up orders
from local bookshops