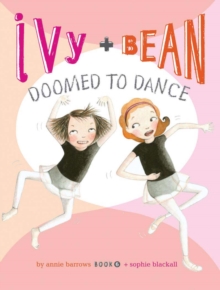 Ivy + Bean Doomed to Dance
Paperback
Description
Finally! After months of begging their parents for ballet lessons, Ivy and Bean finally get what they wanted...well, not exactly.
It turns out ballet lessons are actually about learning how to dance gracefully.
If only the girls hadn't promised their parents to finish the entire ballet course!
Information
Format: Paperback
Pages: 136 pages
Publisher: Chronicle Books
Publication Date: 02/08/2010
Category: General
ISBN: 9780811876667
Free Home Delivery
on all orders
Pick up orders
from local bookshops
Reviews
Showing 1 - 3 of 3 reviews.
Review by AbigailAdams26
16/06/2015
Best friends Ivy and Bean learn that it's best to be careful what you wish for in this sixth installment of author Annie Barrows and illustrator Sophie Blackall's series of chapter-books devoted to their (mis)adventures. Looking through a copy of <i>The Royal Book of the Ballet</i> one day, the two second-graders discover a series of photographs from <i>Giselle</i>, and, misinterpreting one of the scenes, come to the conclusion that ballet involves learning to kick people in the face, or to dance them to death (as with the wilis). Pestering their parents, who (quite naturally) feel that this new interest will soon wain, and the new hobby be abandoned - much like softball, in Bean's case, and ice-skating, in Ivy's - the girls eventually succeed in enrolling in ballet lessons. Their horror, when they discover that Madame Joy's class involves nothing so dramatic as kick-boxing, is compounded by their promise not to quit, or to complain. Matters reach a crisis level, however, when they are cast as squid in the upcoming recital, and the two are soon embroiled in a scheme to run away...Although I found the premise of <u>Ivy + Bean: Doomed to Dance</u> quite amusing - most books about ballet, for young readers, seem to take it as a given that it is a desirable and beautiful activity - and appreciated the charming artwork just as much as in previous installments of the series, something fell a little short for me here. I wouldn't say that there was anything <i>wrong</i> with the story, but I just wasn't as entertained as I expected to be. That said, I did appreciate the references to E.L. Konigsburg's <u>From the Mixed-Up Files of Mrs Basil E. Frankweiler</u>, when Ivy and Bean are plotting their escape to the aquarium, although I would have preferred if the book had been named, in the story. All in all, a pleasant but unremarkable addition to the series - we'll have to see if subsequent titles improve!
Review by ahanch1
27/08/2015
I especially enjoyed this book because I can personally relate to it! When I was younger, I was a dancer just like the two friends in the book. However, it wasn't as exciting as I expected it to be and I wanted to quit! When readers can make personal meaning to the book, they become more engaged and their comprehension will be enhanced. Even if readers do not dance, they can relate to the book by the large amount of hobbies that one of the characters quit. The aquarium is also a fun topic within this book! Overall, the book was very exciting to read. The central message is to find the joy out of everything.Summary: After reading a book about Ballet, Ivy and Bean really wanted to start taking ballet classes. Bean's mother was skeptical about this idea because Bean had quit many hobbies in the past. However, both Ivy and Bean promised to take ballet classes until the recital without complaining. Both of their moms finally agreed and said yes. The two girls were super excited! They expected to do many leaps and jumps in class! The first day of class finally came, and there were no leaps or jumps involved. None in the second, or third, or fourth class either. The class was only learning the basics of ballet. Both of them soon became bored and had a hard time grasping the dance moves and positions. They were getting angry. They thought they were going to be doing amazing and fun things in ballet class! Ivy and Bean could never complain to their parents though, they promised. The ballet teacher announced that they would be doing a dance for an audience. Ivy and Bean were stuck playing squid during the dance. They were beyond disappointed! Neither of them wanted to embarrass themselves in front of the whole audience by wearing squid costumes. Since they couldn't complain, they had to find another way out of this embarrassing mess. Ivy and Bean both tried getting sick, didn't work. Ivy and Bean both tried spraining an arm, didn't work. Suddenly, Ivy came up with another idea! During their field trip to the aquarium, Ivy and Bean would run away so they would not have to perform as squid. When the day came, they were determined that their plan to run away would work. After they finally lost their class in the aquarium, they became lost themselves. They found themselves in a dark room. After they finally found a light switch, they turned it on. They were shocked at what they saw! A very scary squid swam right towards them at a fast pace. The girls screamed and ran out of the room! The teacher and the girls mothers were extremely upset that the girls did not follow the safety rules at the aquarium. So there were Ivy and Bean, stuck at square one. They were back to having to perform as squids in their ballet dance. Since they learned how scary squids actually were at the aquarium, they couldn't help but to laugh at their non scary squid costumes. Suddenly, they found themselves enjoying and laughing at the situation.
Review by lolhscybrarian
27/08/2015
This series came highly recommended by my niece. Even an adult can appreciate the stories within this series. My niece and I have frequented our local used book store as copies of the books within this series. They don't stay on the shelves of her school library and fly out of the used bookseller but the hunt is worth it. I'd recommend this to an emerging reader in a heartbeat. The stories, including this one about embarking on ballet lessons are easy to connect and relate to.
Also in the Ivy & Bean series | View all