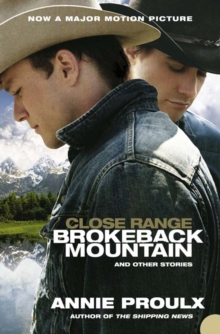 Close Range : Brokeback Mountain and Other Stories
Paperback
Description
The inspiration behind `Life of Pi' director Ang Lee's `Brokeback Mountain' is one of the short stories to be found in this haunting collection of Wyoming tales.`Brokeback Mountain' is set in the beautiful, wild landscape of Wyoming where cowboys live as they have done for generations.
Hard, lonely lives in unforgiving country. Jack Twist and Ennis del Mar are two ranch hands, glad to have found each other's company where none had been expected.
But companionship becomes something else on Brokeback Mountain, something not looked for - an intimacy neither can forget.`Brokeback Mountain' was made into an Academy Award-winning film by Ang Lee, and starred Heath Ledger, Jake Gyllenhaal, Michelle Williams and Anne Hathaway.
Information
Format: Paperback
Pages: 320 pages
Publisher: HarperCollins Publishers
Publication Date: 07/11/2005
Category: Short stories
ISBN: 9780007205585
Free Home Delivery
on all orders
Pick up orders
from local bookshops
Reviews
Showing 1 - 5 of 7 reviews.
Previous | Next
Review by laphroaig
16/06/2015
Although widely praised (or perhaps because of that praise), I have obviously failed to grasp the value of this book.Without doubt there is value in the clipped, stoical characters that populate these stories and it is to the author's credit that they do not turn into cliches - although at times the narrative comes uneasily close to comic imitation - but the factual and unemotive tone becomes grinding. The question "but do I really care?" along with "is everyone in this place so joyless?" comes shortly after the end of each story.Strangely, the film is an almost word-for-word translation where the sombre tone becomes something much more subtle: a sense of wasted opportunity, of being out-of-place, a difficult to define form of tragedy.I often find myselves describing films as "good but not enjoyable", meaning they are well made and deserve praise but not fun to watch. I would have thought this was impossible in a book. It seems Annie Proulx has proved me wrong.
Review by sassafras
16/06/2015
Short story from which the movie is based. Story takes place over a 20 year period about how Jack and Ennis meet and then try to maintain their relationship. A relationship which they can't really explain, but yet can't give up.
Review by TW_Spencer
16/06/2015
The best love story of our time.
Review by ysmng
16/06/2015
Short Story/ novella. Better than the movie in shorter time. The essence of the love that existed is the only driving force in the novella.
Review by riverwillow
16/06/2015
This is about as near a perfect short story as I have read. It feels like a prose poem where Annie Proulx has slaved over the placing of every word in order to convey rich emotion in a sparse environment. Loved it.