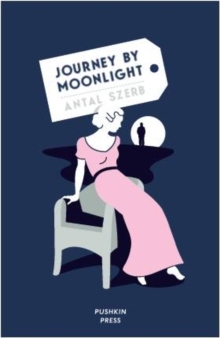 Journey by Moonlight
Hardback
Description
A major classic of 1930s literature, Antal Szerb's Journey by Moonlight (Utas es Holdvilag) is the fantastically moving and darkly funny story of a bourgeois businessman torn between duty and desire.'On the train, everything seemed fine.
The trouble began in Venice ...'Mihaly has dreamt of Italy all his life.
When he finally travels there, on his honeymoon with Erszi, he soon abandon his new wife in order to find himself, haunted by old friends from his turbulent teenage days: beautiful, kind Tamas, brash and wicked Janos, and the sexless yet unforgettable Eva.
Journeying from Venice to Ravenna, Florence and Rome, Mihaly loses himself in Venetian back alleys and in the Tuscan and Umbrian countryside, driven by an irresistible desire to resurrect his lost youth among Hungary's Bright Young Things, and knowing that he must soon decide whether to return to the ambiguous promise of a placid adult life, or allow himself to be seduced into a life of scandalous adventure.Journey by Moonlight (Utas es Holdvilag) is an undoubted masterpiece of Modernist literature, a darkly comic novel cut through by sex and death, which traces the effects of a socially and sexually claustrophobic world on the life of one man.Translated from the Hungarian by the renowned and award-winning Len Rix, Antal Szerb's Journey by Moonlight (first published as Utas es Holdvilag in Hungary in 1937) is the consummate European novel of the inter-war period.
Published by Pushkin Press for the first time in a cloth-bound hardback edition, beautifully designed by Nathan Burton.'A writer of immense subtlety and generosity . . . Can literary mastery be this quiet-seeming, this hilarious, this kind?
Antal Szerb is one of the great European writers'- Ali Smith'A novel to love as well as admire, always playful and ironical, full of brilliant descriptions, bon mots and absurd situations ... it's a book utterly in love with life'- Kevin Crossley-Holland, Guardian Books of the Year'Just divine ... the kind of book that makes you imagine the author has had private access to your own soul'- Nicholas Lezard, Guardian'This radiantly funny and intelligent novel ... shows its author to be one of the masters of twentieth-century fiction.
Len Rix's loving translation of a book that might have remained lost to us deserves special praise'- Paul Bailey, TLS International Books of the Year'A burning book, a major book'- Georges Szirtes, TLSAntal Szerb (1901-1945) was a writer, scholar, critic and translator born to Jewish parents but baptized Catholic.
Multilingual, he lived in Hungary, France, Italy and England, and after graduating in German and English he rapidly established himself as a prolific scholar, publishing books on drama and poetry, studies of Ibsen and Blake, and histories of English and Hungarian literature.At the age of 39, Szerb wrote an authoritative History of World Literature.
He wrote his first novel, The Pendragon Legend, in 1934, followed by Journey by Moonlight in 1937 and The Queen's Necklace in 1943.
These, and a collection of his short stories, Love in a Bottle, are also published in English by Pushkin Press.
Szerb was killed in a concentration camp in January 1945.Pushkin Press's special hardbacks also include deluxe editions of Stefan Zweig's Beware of Pity and The Collected Stories of Stefan Zweig.
Information
Format: Hardback
Pages: 304 pages
Publisher: Pushkin Press
Publication Date: 01/11/2012
ISBN: 9781908968029
Free Home Delivery
on all orders
Pick up orders
from local bookshops
Reviews
Showing 1 - 2 of 2 reviews.
Review by magistrab
16/06/2015
The first story is about a famous classics professor named senator La Ciura, who, despite the fact that he is an irascible curmudgeon, befriends a young newspaper reporter. They find that they are both Sicilian and thus begins a friendship between this unlikely pair. After they have forged this friendship, the senator goes on a trip to Spain but before he sets sail, he tells the reporter about an important experience he had when he was 24 that had a profound impact on his life. The tale the senator tells is passionate and descriptive and has a delightfully unexpected twist. The second story tells the heartwarming tale of a modest accountant on his way home from the office with the bonus he received from his company for Christmas. The final story is about Don Bastassano, a man who is obsessed with acquiring lands on the island of Sicily. He keeps a detailed map of all these lands which had been acquired through less than scrupulous means. He becomes the subject of gossip among the other nobles who like to speculate about the don's amount of wealth, property and his personal habits.This is a flawless translation of three delightful Italian short stories. Once again the New York Review of books has triumphantly provided us with another must-read classic.
Review by snash
16/06/2015
An excellent tale with numerous threads; accepting societal norms, the power of the past, the lure of religion, death, and drama. It is all written with an understanding of psychology and the support of atmospheric scenes.