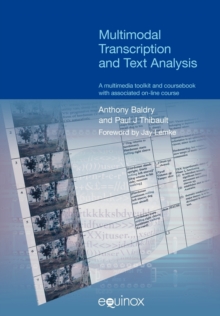 Multimodal Transcription and Text Analysis
Paperback / softback
Description
What are multimodal texts? How can we transcribe and analyse them? How can multimedia and internet help us in multimodal discourse analysis?
What postproduction and authoring skills are needed to analyse a multimodal text or to develop a corpus of multimodal texts?
How does integrating multimedia meaning-making resources into hypertext multiply our meaning-making potential?
How does the study of language relate to multimodality and multimedia, in particular in the e-learning age?
How, and to what extent, will multimodal discourse analysis re-shape linguistics?
In its attempt to provide answers to the questions raised above, and many others, this book proposes concrete solutions to the problems of multimodal text analysis and transcription of printed texts, websites and film.
As such, it constitutes a much needed course in multimodal text transcription and analysis.
It also suggests ways in which multimodal discourse analysis can help both educators and students understand how meaning is made in the e-learning environments that now play such an important role in our lives. In both these respects, readers are encouraged to use the book in conjunction with an associated and freely accessible website which provides many illustrations and exercises that further contextualise and exemplify the insights and descriptions provided by the book.
As befits a coursebook, the individual chapters of the book are carefully organised in such a way as to provide a step-by-step progression in theoretical and descriptive complexity.
Information
Format: Paperback / softback
Pages: 288 pages, numerous black and white with 8 colour pages
Publisher: Equinox Publishing Ltd
Publication Date: 01/07/2005
Category: Computational linguistics
ISBN: 9781904768074
Also in the Equinox Textbooks & Surveys in Linguistics series | View all