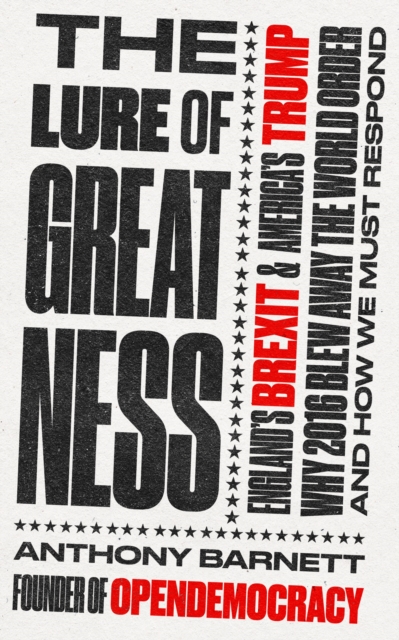 The Lure of Greatness : England's Brexit and America's Trump
Paperback / softback
Description
In 2016 two surprising explosions of popular contempt for the existing order drove Britain into Brexit and paved the way for Trump's presidency of the United States. On both sides of the Atlantic, proud regimes with global pretensions were levelled by justifiable revolts.
But in the name of self-government, Brexit and Trump will intensify the authoritarian traditions of their outdated political systems. The Lure of Greatness is a blistering account of how and why this happened.
The shadow of Iraq, the great financial crash, campaigns of poison and intrigue, the filleting of David Cameron with the cold fury of a Remain voter... these are just the start. At the book's heart is the story of the institutional and constitutional implosion of the United Kingdom, the farce of 'the sovereignty of parliament', a passionate account of English nationalism and the absurdity of the ever-increasing and insidious influence of the Daily Mail.
What emerges is a compelling summary of an EU in crisis, the fateful absence of a viable left alternative, the normality of immigration - all of which frame the reasons for the triumph of Leave. Anthony Barnett, co-founder of openDemocracy, applies a lifetime of observing, reporting and sedition in this searing analysis of the two great democratic disasters of our time.
Information
Format:Paperback / softback
Pages:416 pages
Publisher:Unbound
Publication Date:24/08/2017
Category:
ISBN:9781783524532
Information
Format:Paperback / softback
Pages:416 pages
Publisher:Unbound
Publication Date:24/08/2017
Category:
ISBN:9781783524532